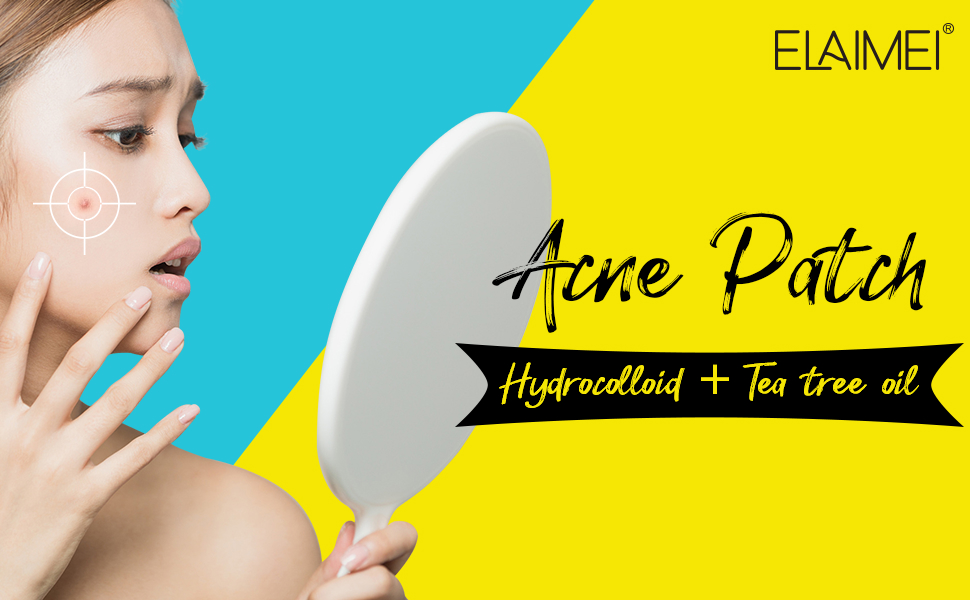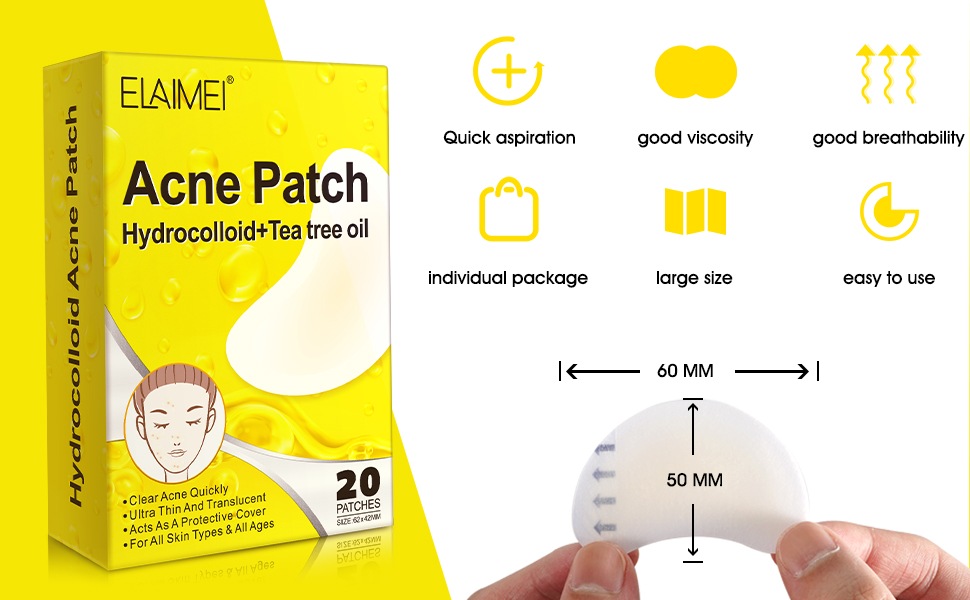 Acne Pimple Patch Large Spot Control Cover Long Size Hydrocolloid Strip for Breakouts Extra Coverage Stickers Facial Skin Care (20 patches)
Here today, gone tomorrow. Acne Treatment, We are more professional. Elaimei Pimple Patches for the face help eliminate blemishes by absorbing pus and fluids for faster healing. These latex-free hydrocolloid patches are safe for all skin types and are designed to help protect the skin, heal spots and prevent picking, which can lead to scarring.
Helps eliminate blemishes
Covers & protects to keep blemish clean
Speeds up healing
Absorbs spot secretions
Helps prevent picking
Helps reduce the risk of scarring
Super a big size with 60*50mm in a curved shape.
Extra-large curved shape hugs contours of acne hot spots like your chin, nose, forehead, back and cheeks.
Large Coverage: Long Size, contoured patch fits acne hot spots like nose, chin, and cheek. Includes 20 patches in 60mm x 50mm size.
Effective Care: Gently draws out pus and impurities straight from the source, while effectively covering and calming blemishes.
Strong Adhesion: Acne Patches will shrink your zit overnight or even suck out all the gunk. Speed up the process of vanishing that acne with our patches.
High Quality: Made with medical-grade, highly absorbent hydrocolloid. Thin, clear, unnoticeable, and suitable for women and men.
Individual Packaging: Each piece is individually packaged with a seal bag design, you can carry it on the go, convenient and hygienic.
Acne solution that keeps your skin clear with one patch!
How to use it?
Cleanse & Dry. Cleanse the affected area and let the skin dry. It works best on whiteheads and surfaced acne.
Apply Patch. Gently tear or cut open the packing and apply the patch to the affected area.
Lightly press. Press down lightly on the whole patch for a few seconds until fully fitted.
Remove or Replace. After 4-8 hours, the patch should turn white. Remove and discard or replace the patch as required.
Features:
Clean & Safe Ingredients. Our clean ingredients are formulated with sensitive skin in mind. Infused with Centella Asiatica, Calendula&Tea Tree, the power trio to help fight acne.
Shrinks Zits In 5 Hours. With 60% more gunk-absorbing strength than other brands, our pure medical-grade hydrocolloid pimple patches effortlessly pulls the pus out of whiteheads to speed up healing.
Resealable Packaging. Take LitBear acne patches wherever you go. With its resealable pouch, your acne patches stay fresh and protected no matter where you take them.
Easy Peel Design. Designed so you can peel off acne patches without any wrinkling! Simply peel back the perforated film, then peel off the acne patch.