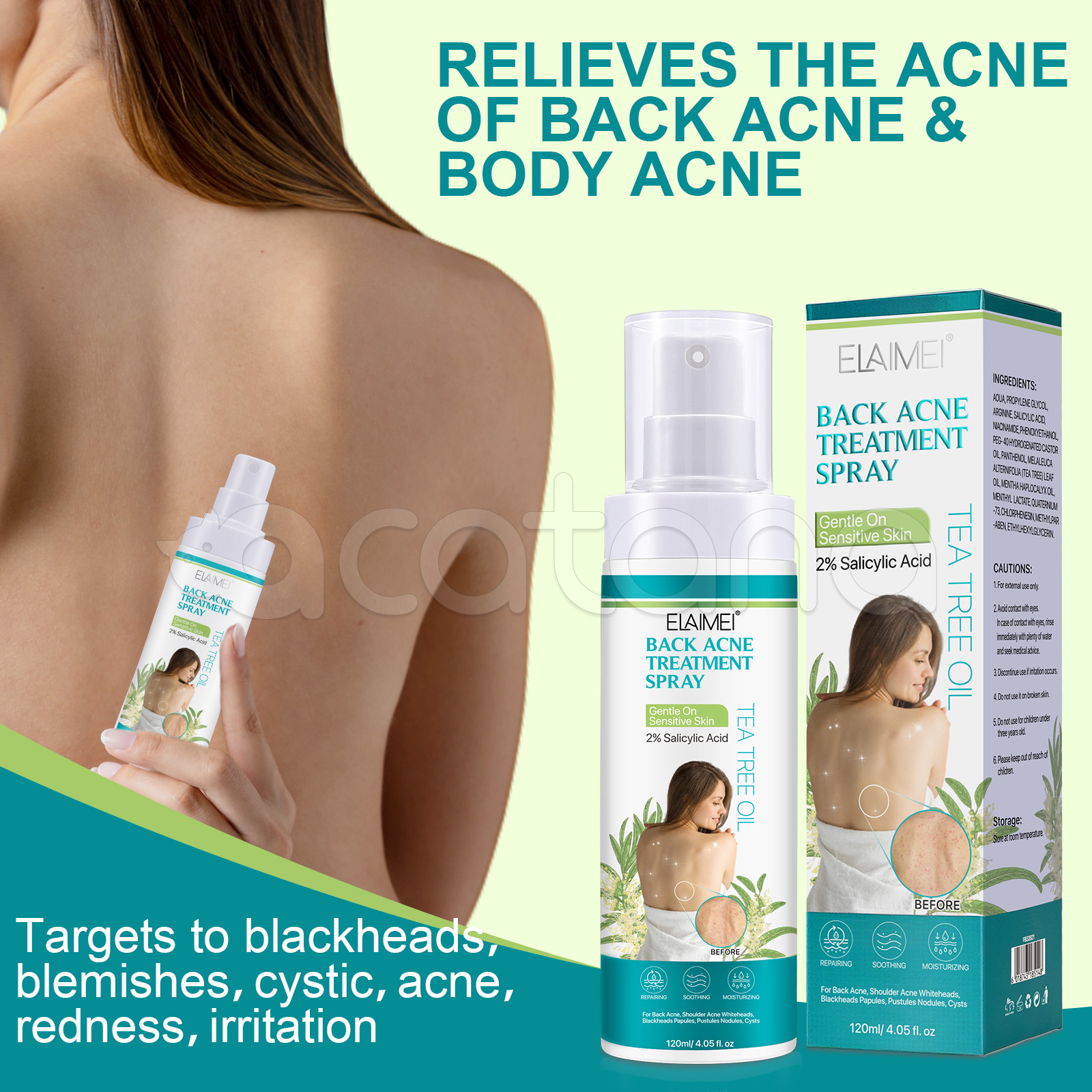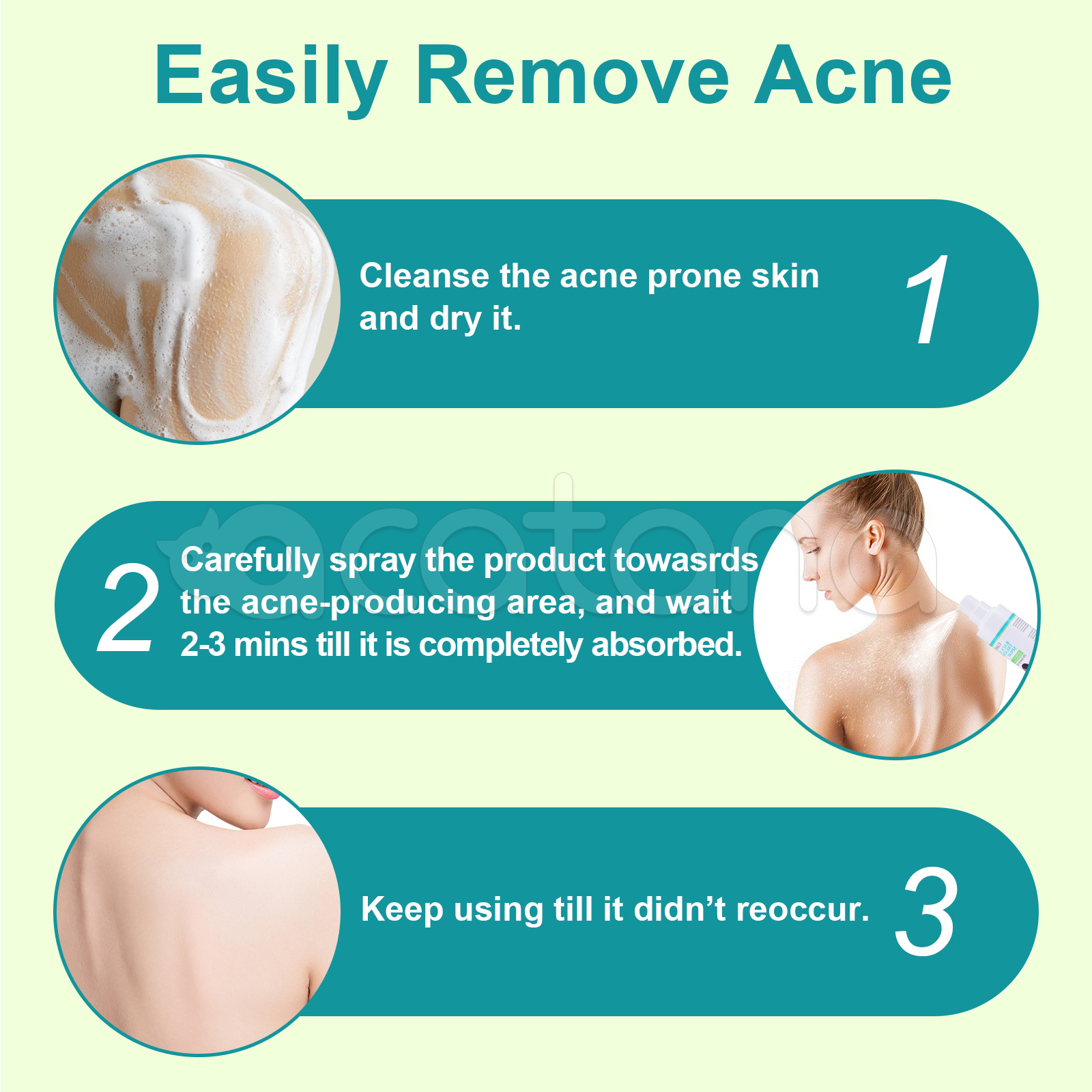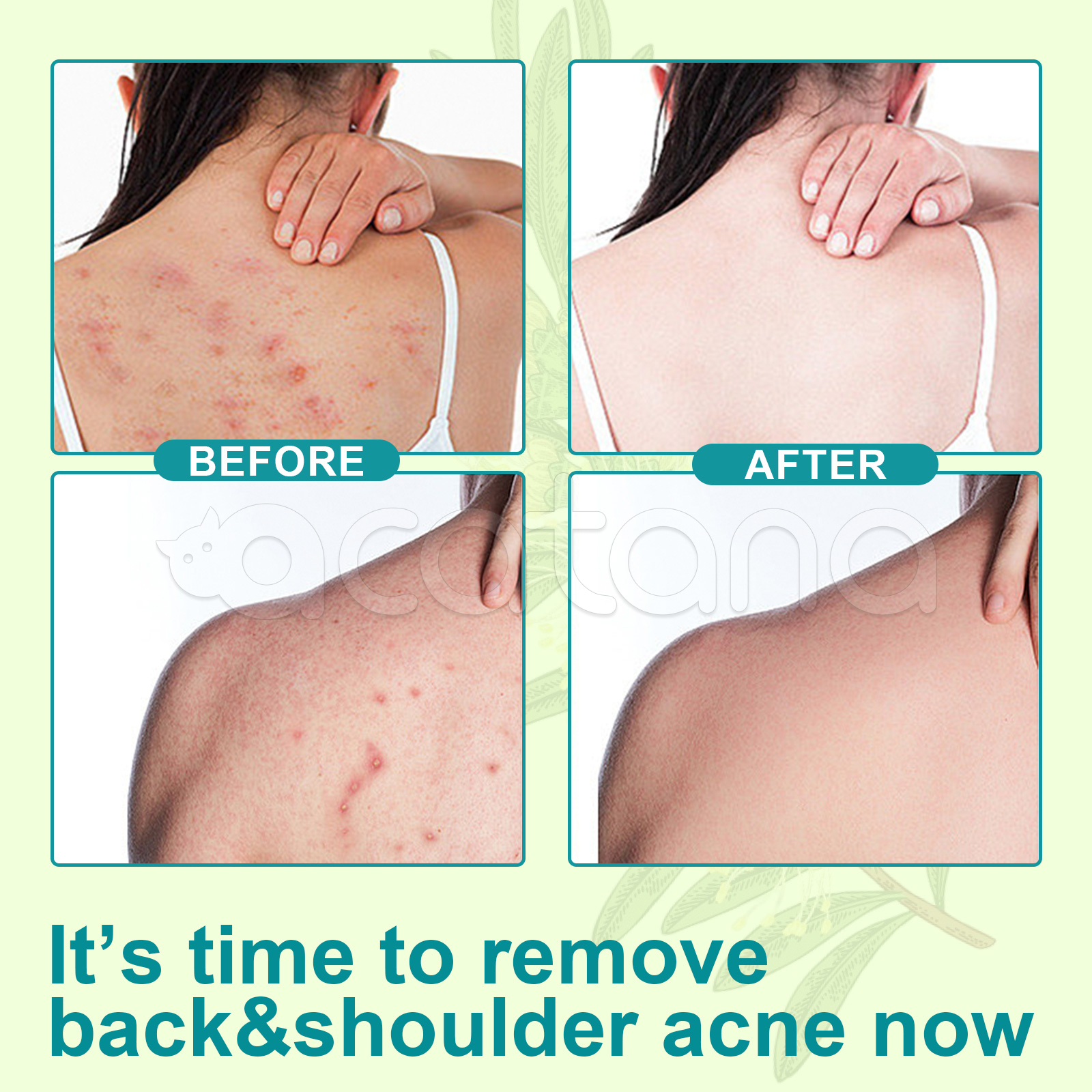 Elaimei Back Acne Treatment Spray with 2% Salicylic Acid and Tea Tree Oil (120ml) is specially formulated for acne-prone skin. Gently spray, give the skin a moisturizing experience, clear and watery texture, deeply purify the skin and remove acne.
About this item:
Powerful Back Acne Treatment Spray – This targeted, easy-to-use, spray-on body exfoliation is formulated with powerful ingredients, including 2% Salicylic Acid, Tea Tree Oil, and various herbal extracts, to specifically target stubborn back acne and body acne, reduce sebum accumulation, and provide maximum strength for effective back acne solution.
Suitable for All Skin Types – Our Elaimei Back Acne Spray is suitable for any acne-prone skin and gentle on sensitive skin, making it great prevention for body acne. Our Back Acne Spray is fragrance and paraben-free, providing clean ingredients and science-backed formulas for the effective treatment of body acne, back acne, whiteheads, and papules.
Easy to Use and Effective – Spritz our salicylic acid spray, paying close attention to acne-prone areas. Our Back Acne Treatment is easy to apply on large and hard-to-reach areas, making it a powerful solution for back acne, body acne, and other types of acne.
Natural Herbal Formula – Acne treatment spray formulated with natural herbs, contains 2% salicylic acid, tea tree oil, specifically for all types of acne skin, is a powerful natural body acne treatment that is powerful, gentle, moisturizing, and repairing.
Wide application – Our Elaimei acne body sprays are suitable for any Acne-Prone Skin: Back Acne, Shoulder Acne Whiteheads, Blackheads Papules, Pustules Nodules, Cysts and for sensitive skin, mild and non-irritating.
Elaimei Back Acne Treatment Spray gently moisturizes, removes acne, repairs acne skin, regulates the secretion of oil in acne skin, improves the acne-prone skin condition, leaves the skin smooth and supple, and restores the skin to a healthy and natural state.
Features:
Skin-friendly Formula: Made with herbal formula and natural ingredients.
Clean Skin: By dissolving pore-clogging oil and reducing the appearance of pores, our back pimple spray effectively cleanses and unclogs pores.
Pimple Prevention Solution: Prevent pimple damage with our back pimple spray deep repair formula.
Nourish Skin: With its unique formulation, our body pimple spray utilizes deep nourishment to soothe and moisturize your skin.
Widely Used: The body pimple spray is moisturizing, non-sticky, and fast-absorbing, suitable for most skin types.
This Elaimei Body Acne Spray with unique, non-abrasive, leave-on body acne treatment gently exfoliates and moisturizes the skin, while regulating the secretion of oil, decreasing chances of breakouts, and restoring healthy skin texture and barrier.
How to use:
1. Clean the acne-producing area.
2. Press the nozzle at 15 cm away from the acne area to spread the product evenly on the acne-prone skin in a mist-like form until the product is naturally absorbed.
3. Spray 2–3 times a day, and spray 3–4 times a day if acne is severe.
4. Continue application for as long as necessary.
5. Discontinue use if irritation occurs.
Package included: 1 * Elaimei Back Acne Treatment Spray (120ml).