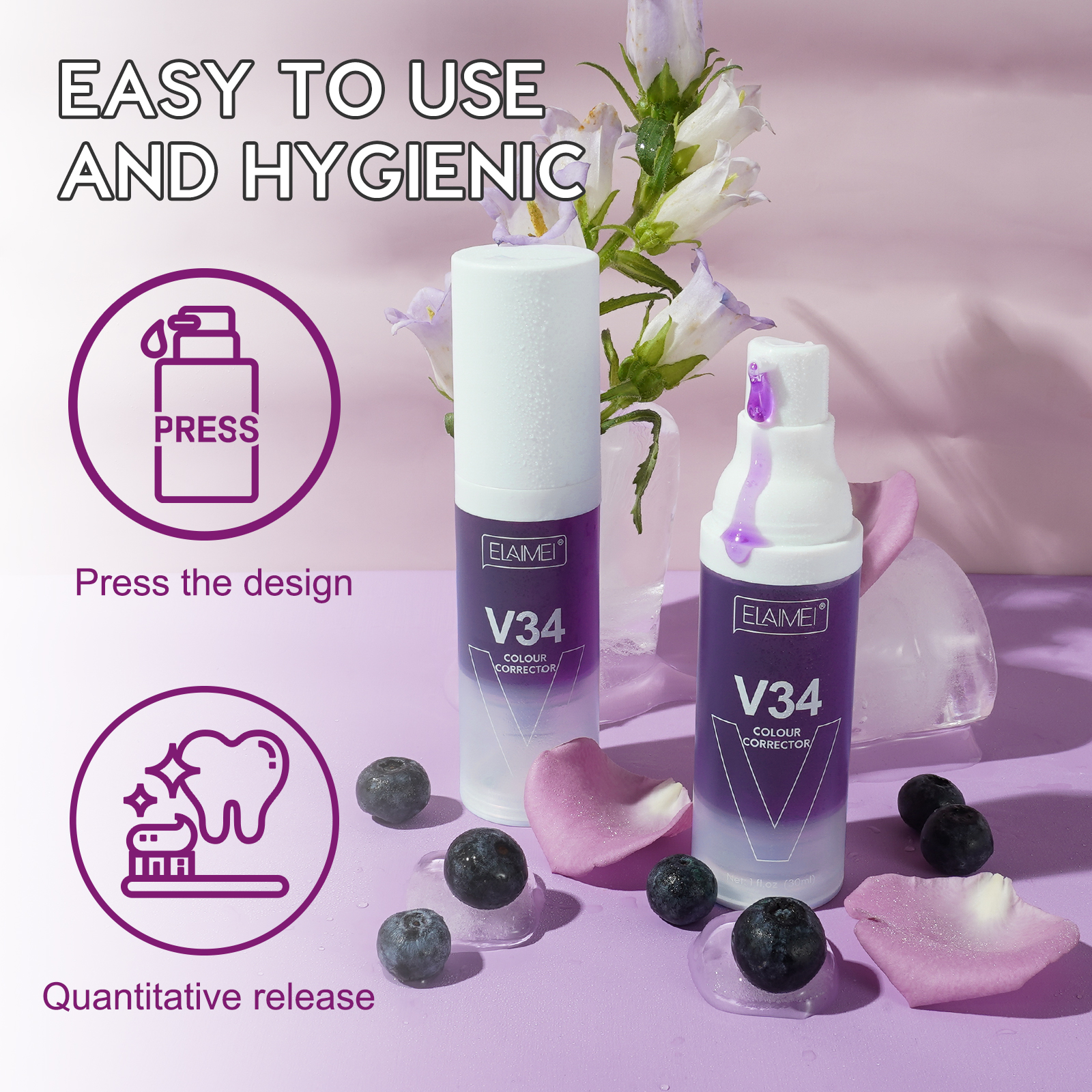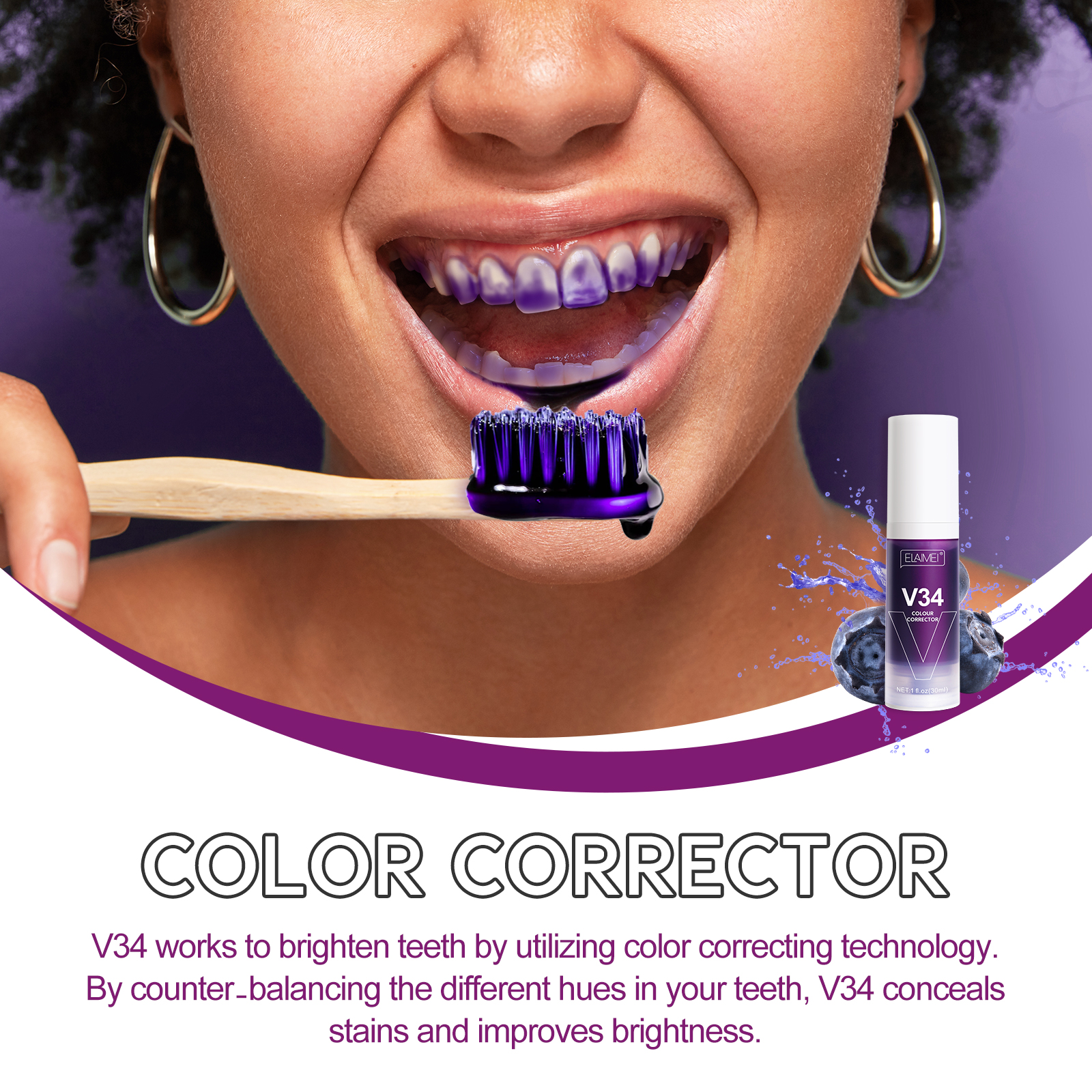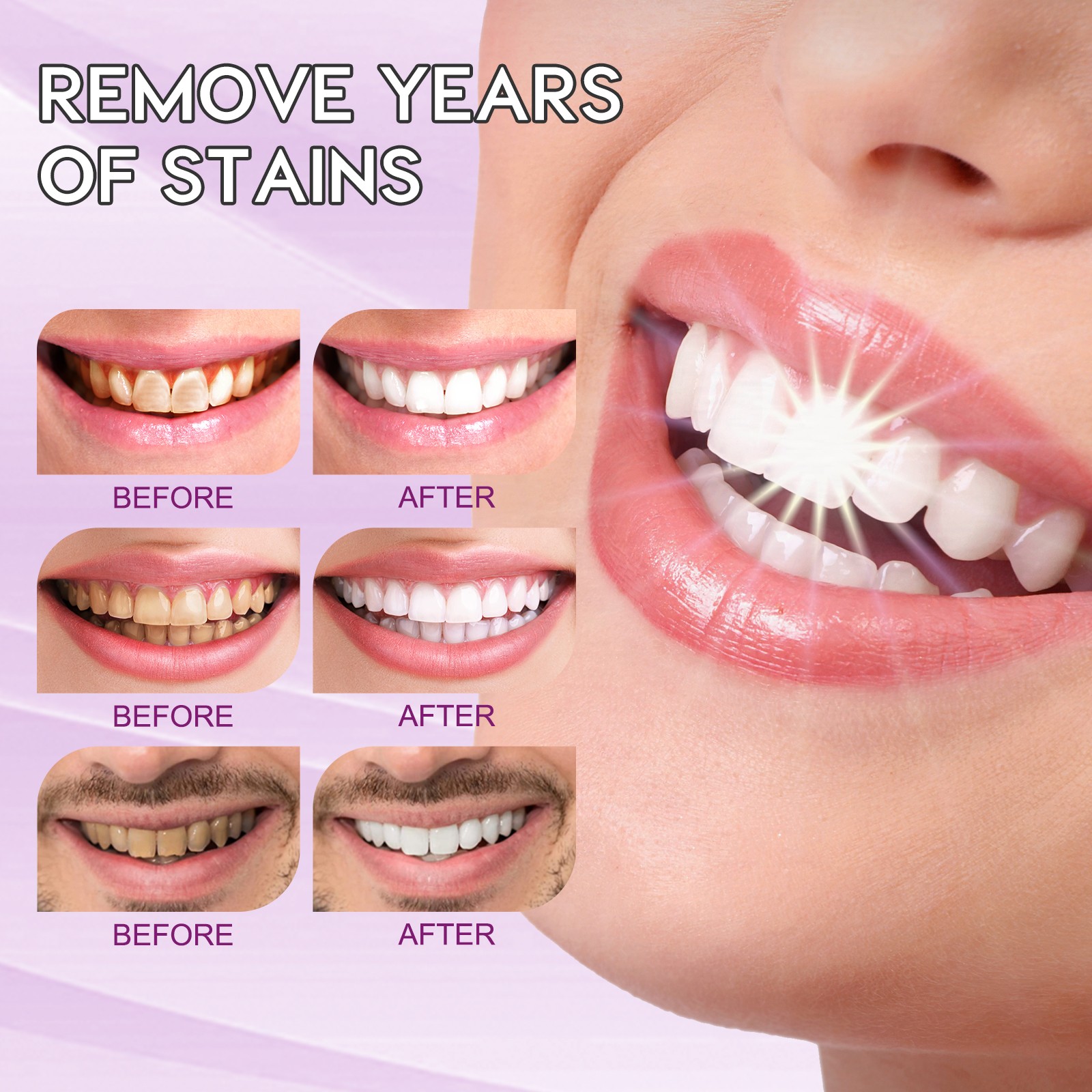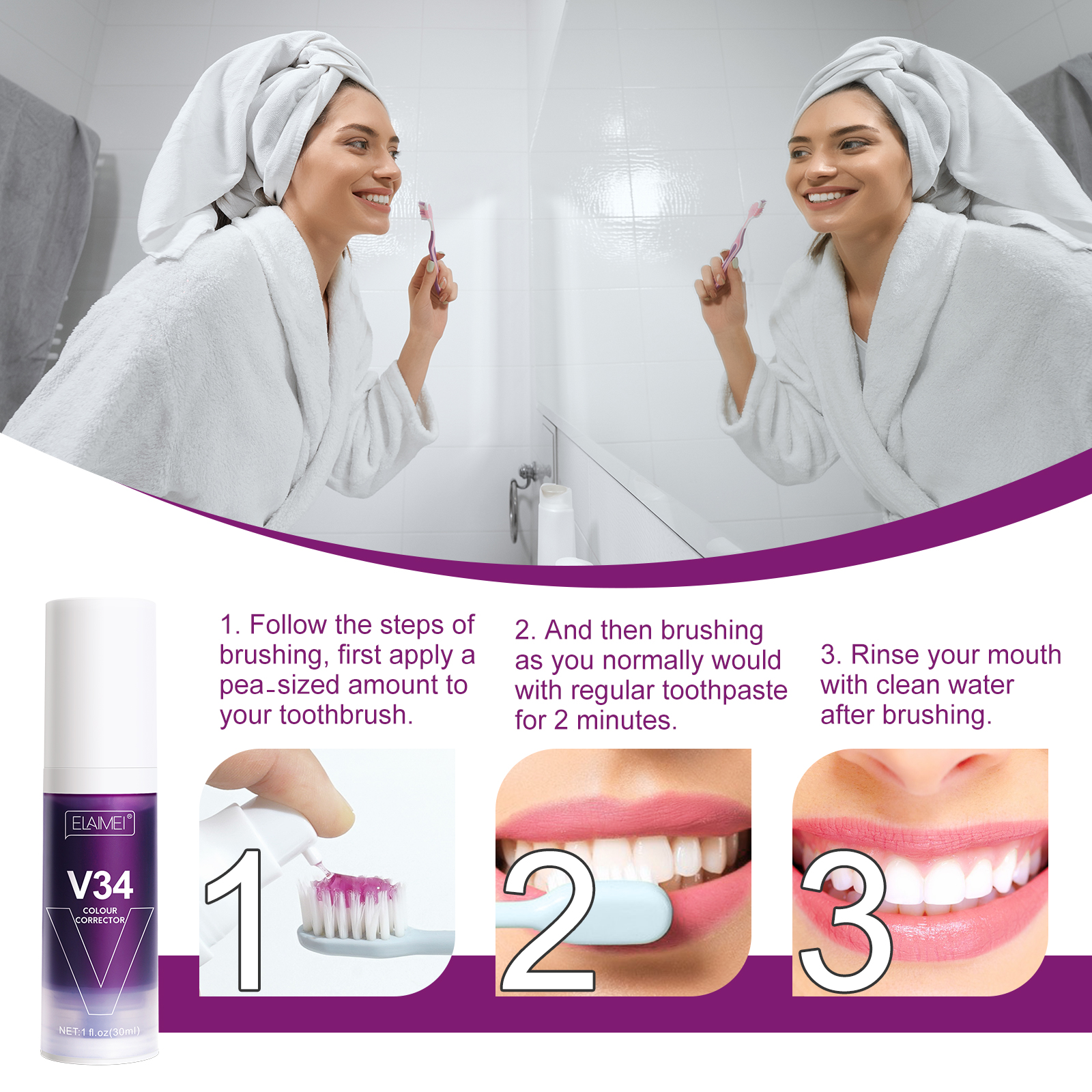 Elaimei Color Corrector ToothPaste Teeth Whitening Oral Hygiene Foam V34 Tretment Care Restorative Hyaluronic Acid Repair Freshen Breath 30 ml
Elaimei Colour Corrector for Teeth Whitening Toothpaste Purple whitening toothpaste is an ultimate safe solution for all coffee, tea overs, which gives you a visible whitening effect as well as full protection to your gums and teeth with a fresher breath.
Repair Gums & Anti-allergic Teeth Whitening Toothpaste is Useful for Repairing Gums and Teeth Desensitization. Full Protection to Your Gums and Teeth with a Fresher Breath.
purple toothpaste for teeth whitening Contains advanced stain removal formula to remove deep stains, make your teeth whiter, and make your smile more beautiful.
V34 color corrector toothpaste Anti-cavities Using powerful tooth enamel toothpaste can effectively prevent tooth decay and improve the overall health of tooth enamel. Make your teeth healthier and let you eat without fear.
Easy To Carry And Use This purple toothpaste has been designed with a small compact size, and is lightweight. The bottle mouth press-type design makes it more convenient for use.
Features:
Supports healthier gums and soft tissue
For current and soft tissue problems
Improve oral hygiene
Contains HA5 Hyaluronic Serum that utilizes a high concentration of hyaluronic (HA) to target current and soft tissue problems. It supports the hydration of the gums and restores the teeth while improving oral hygiene.
HA Hyaluronic Serum targets current gum & soft tissue concerns by utilizing a high concentration of Hyaluronic Acid (HA).
It supports gum hydration, saliva production and more to improve your oral hygiene.
1.Contains a high concentration of HA.
2.Quickly improves oral hygiene.
3.Supports healthier gums & soft tissue.
4.Anti-inflammatory.
Usage of Elaimei Whitening ToothPaste:
1. Follow the steps for brushing your teeth, first take a pea-sized amount on the toothbrush.
2. Then brush your teeth with regular toothpaste for 2 minutes as usual.
3. Rinse your mouth with water after brushing your teeth.
Feature:
Superfine foam can effectively clean and dissolve stains on teeth, brighten teeth, provide fresh breath and healthier gums!
Plant extracts, help to break down the pigmentation on the surface of the teeth, block pigmentation, make your teeth no longer yellow teeth.
Simply apply a dollop of foam to your toothbrush and brush your teeth the way you always do.
Long-lasting brighter & whiter smile-remove stains and whitens your teeth while you brush.
INGREDIENTS
Glycerin, Aqua, Sorbitol, Hydrated Silica, Xylitol, Polysorbate 80, Cellulose Gum, Mentha Piperita (Peppermint) Oil, Phenoxyethanol, Sucralose, Tetrasodium Pyrophosphate, CI17200/D&C Red No.33, CI42090/FD&C Blue No.1, Ethylhexylglycerin.