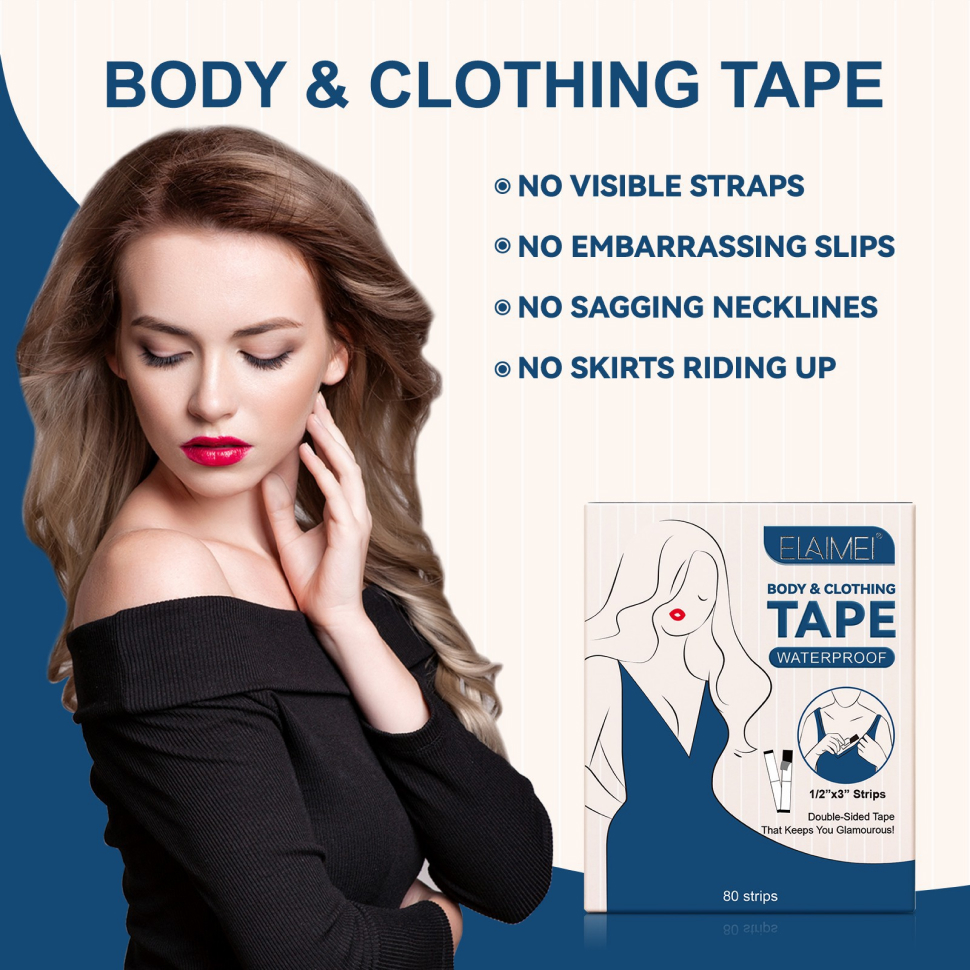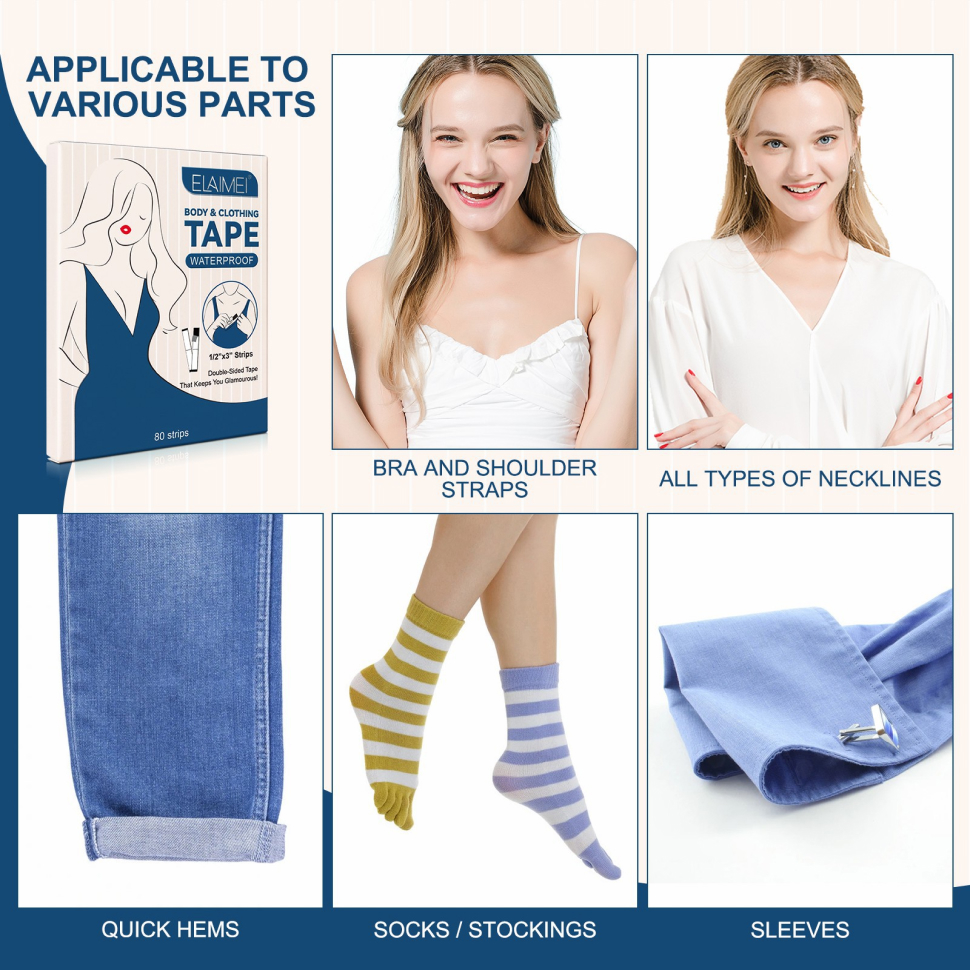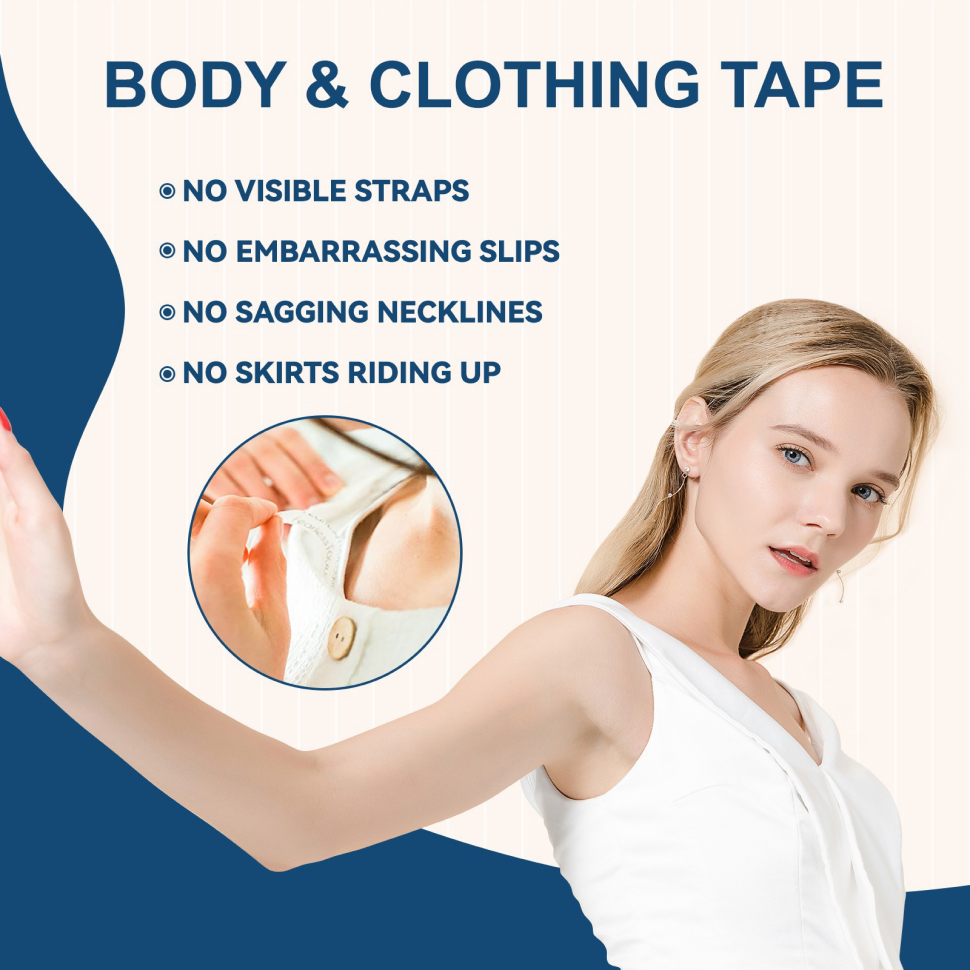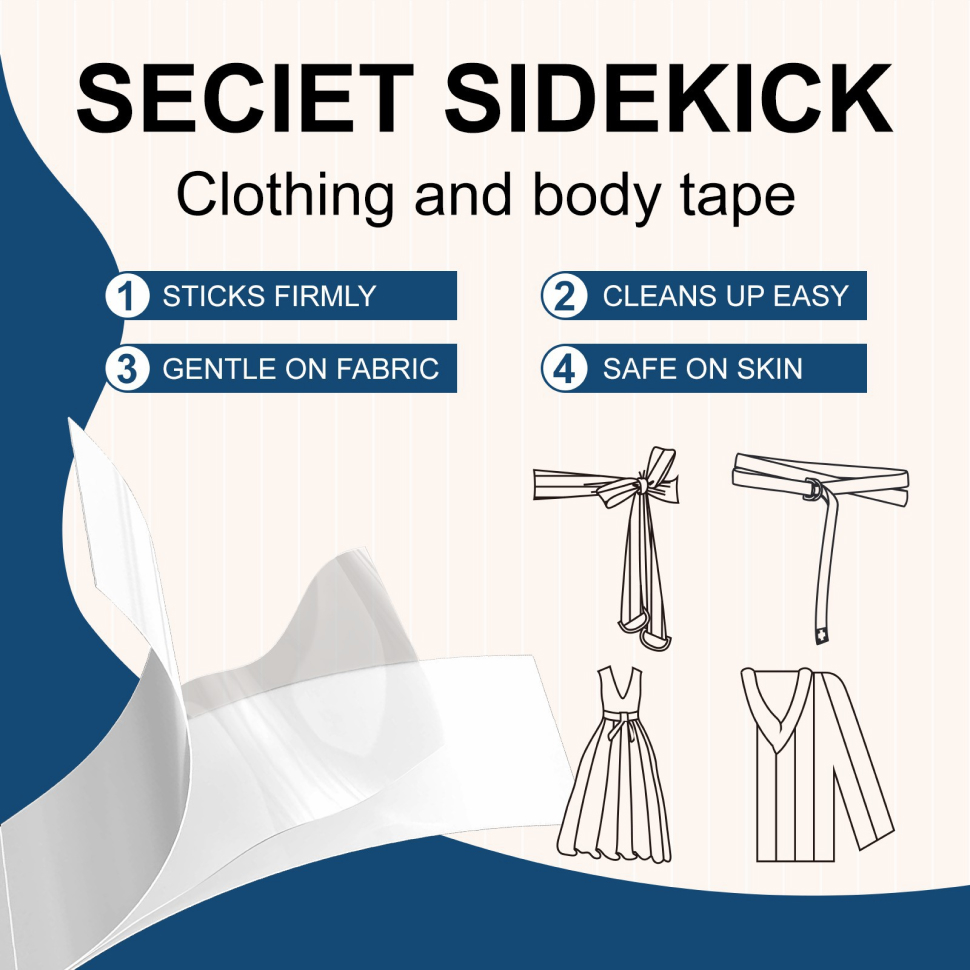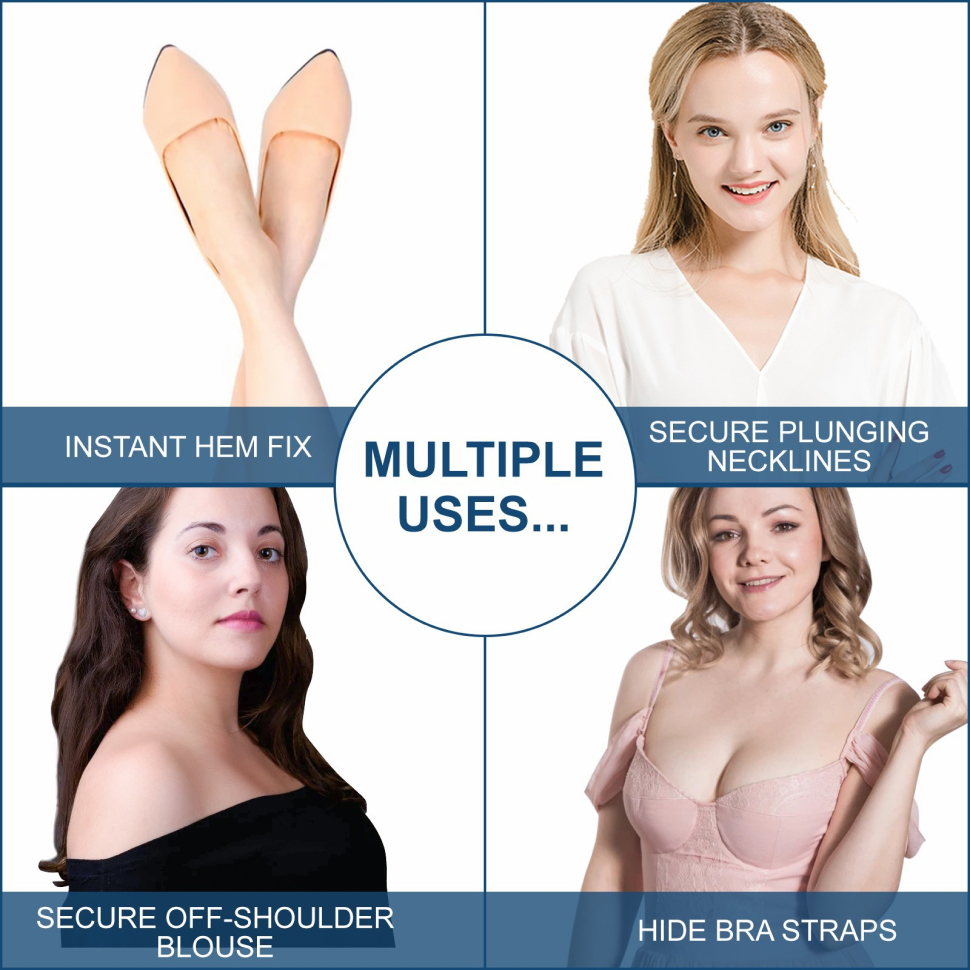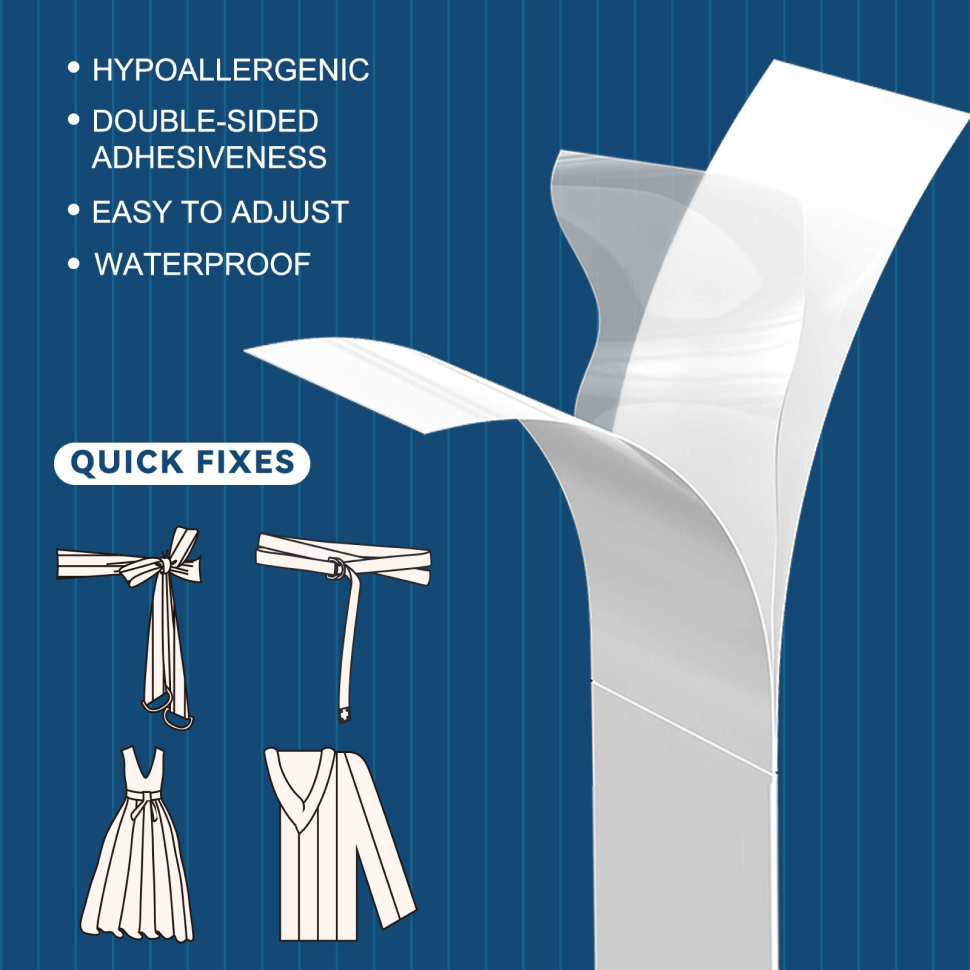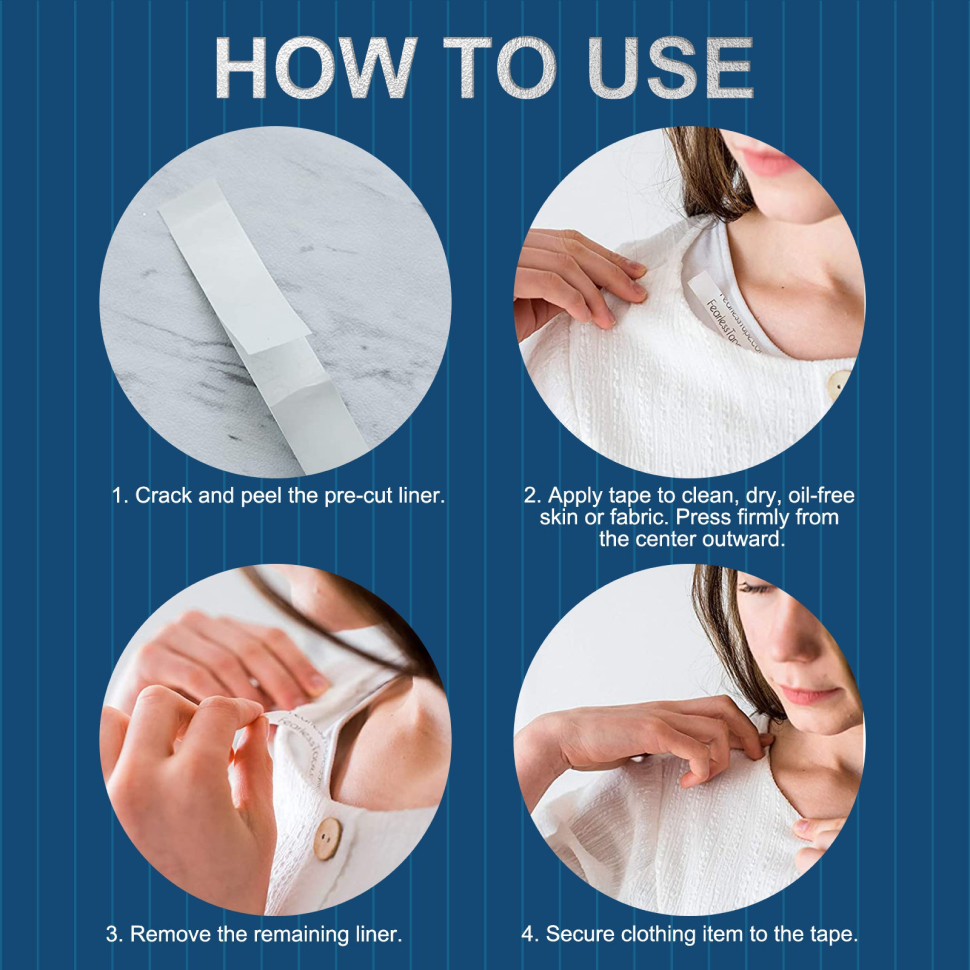 ELAIMEI Double Sided Clear Tape is the ultimate double-sided tape for body and clothing to keep you looking fabulous all day long! Fashion Tape will keep you looking your best.
HOLDS CLOTHING STEADY. Clear double-sided tape will hold your clothing and hemlines comfortably against your skin or undergarments to keep your outfit refined, classy and elegant all day long. No more embarrassing slips, visible straps, or sagging necklines. Each strip sizes is 13mm x 87mm.
SAFE ON SKIN. Our special adhesive is designed to be skin safe and not cause irritation when applied directly to your skin. We use safe materials that are comfortable all day long, but also wash off easily, so you don't have to deal with annoying residue or unsightly glue marks.
FABRIC FRIENDLY. Stop ruining your clothing and fabrics with holes from metal pins! Unlike pins, our double-sided tape is invisible to everyone but you! There are no lumpy marks or lines that often appear with metal pins. Our adhesive is designed to not leave residue on your fabric after removal.
MOVE WITH CONFIDENCE. Professional women and super moms are always on the go! That's why our tape is built to hold up to movement and real-life use. No need to stand like a statue to maintain your perfect silhouette. Feel free and fearless in wedding dresses, prom gowns, or stylish everyday attire.
PREMIUM QUALITY. Our Tape for women is super stretchy and transparent which can be applied to all skin colors and fabrics. The adhesive sticks firmly and cleans up easily. So dress confidently and be your best self every day.
Fashion Tape is perfect for:
Keep your dress or skirt in order and where it should be
Keeping your bra straps in place
Doing a quick hem on your pants or skirt
Keeping your no show socks in place
Keeping gaps closed between buttons on your shirt
Keeping belt straps from flapping
How to use:
Crack and Peel the pre-cut liner.
Apply tape to clean, dry, oil-free skin or fabric. Press firmly from the center outward.
Remove the remaining liner.
Secure clothing items to the tape.
The Package including: Elaimei Double Sided Tape (pack of 80 strips), 13mm x 87mm.