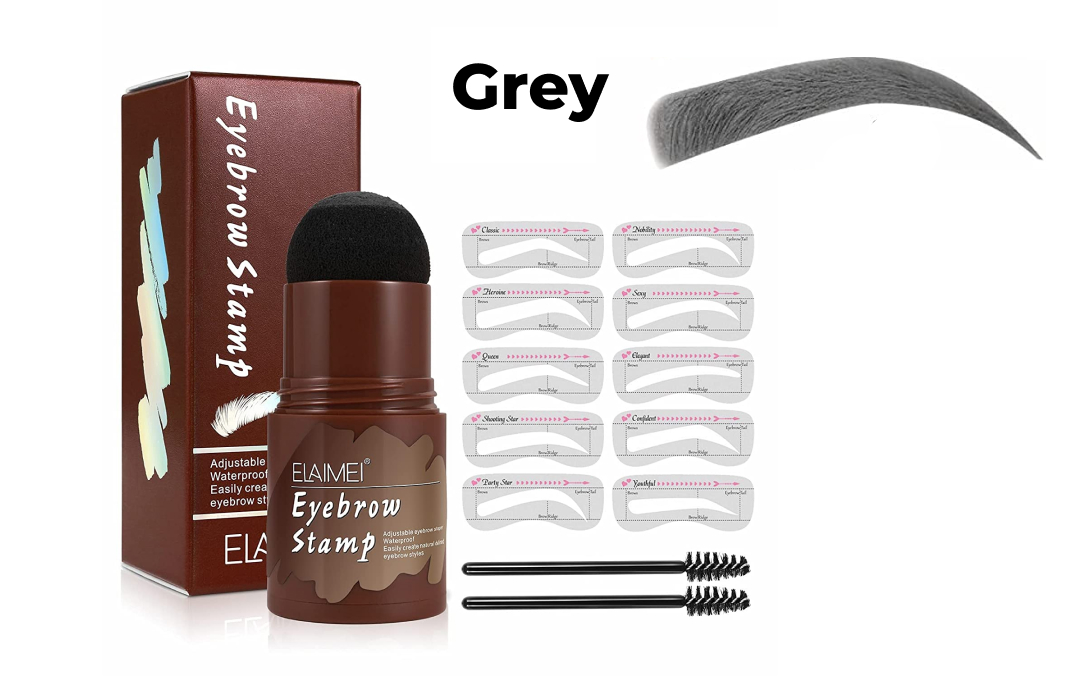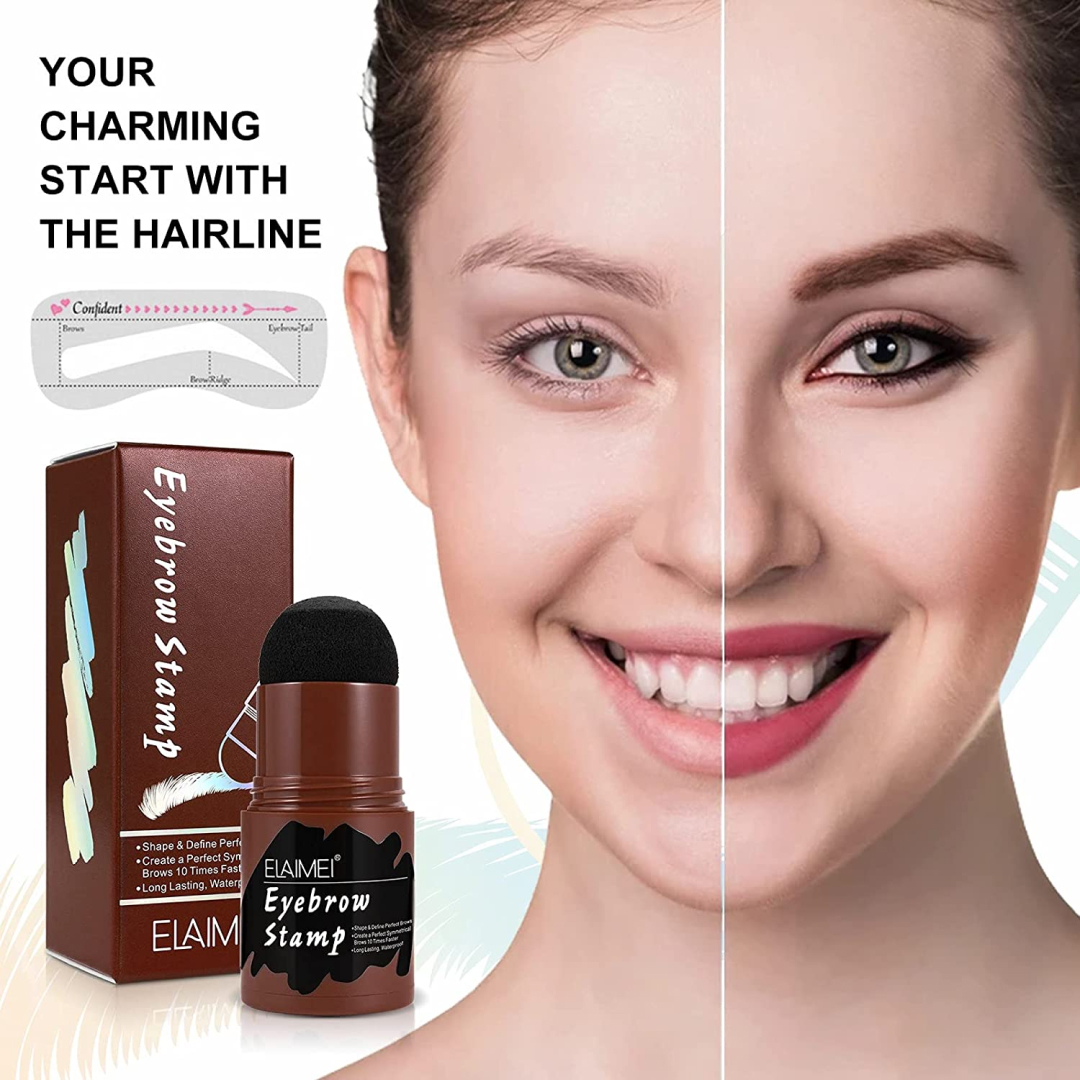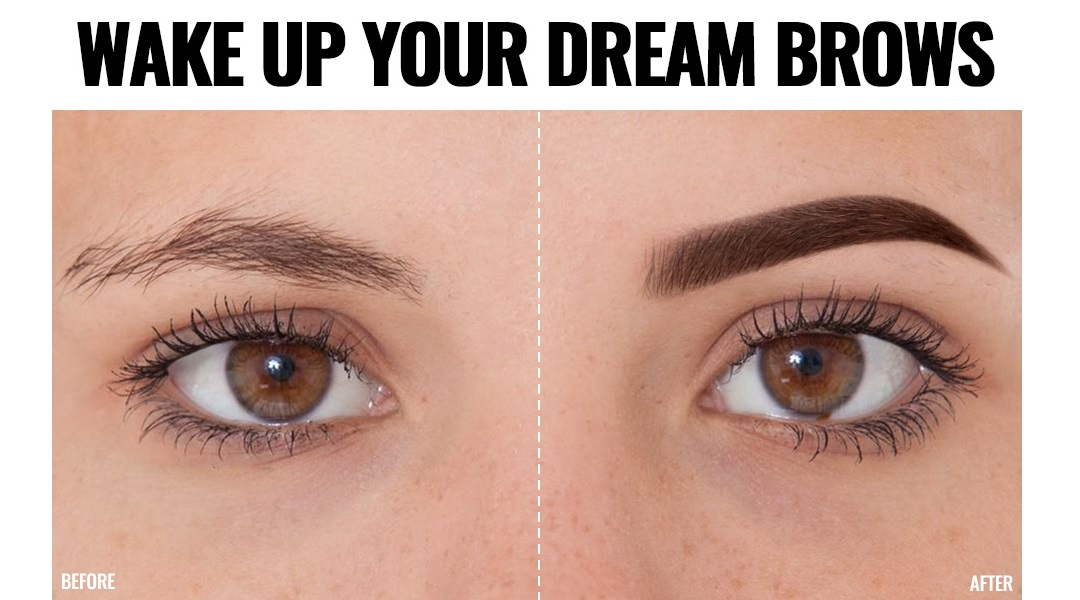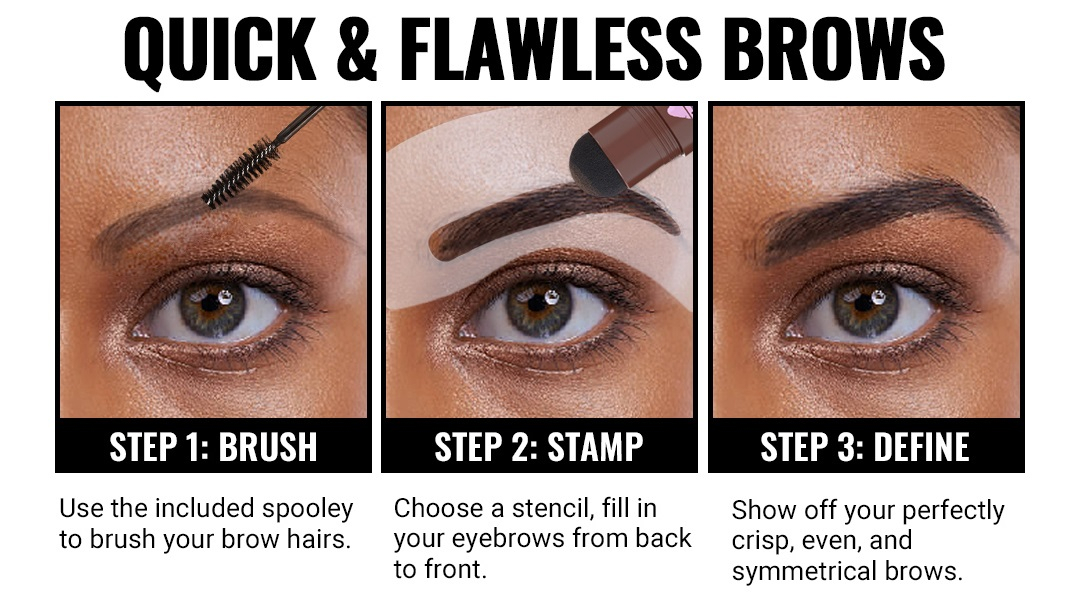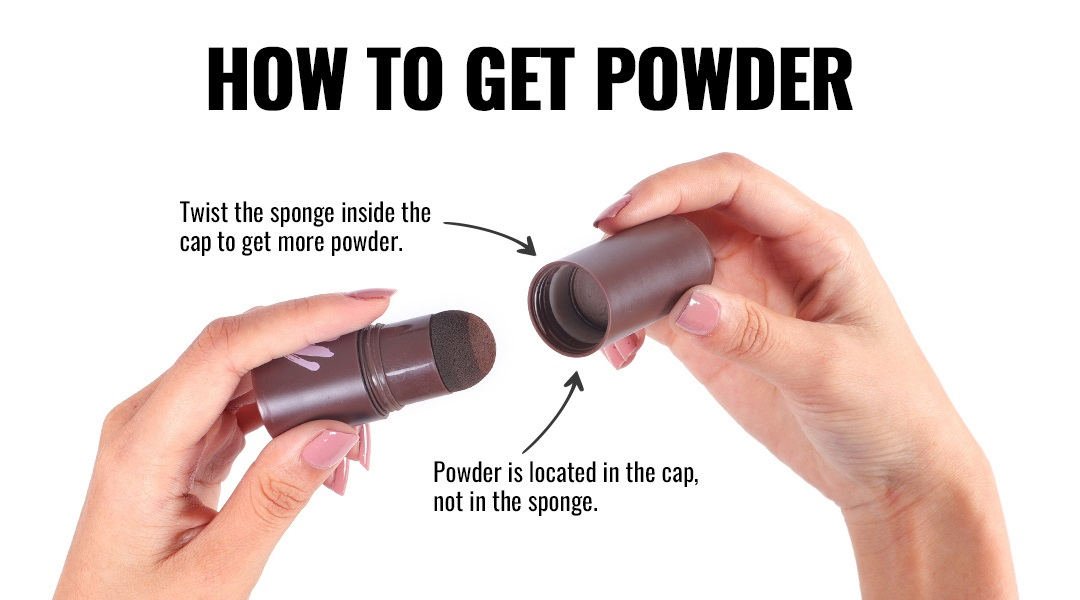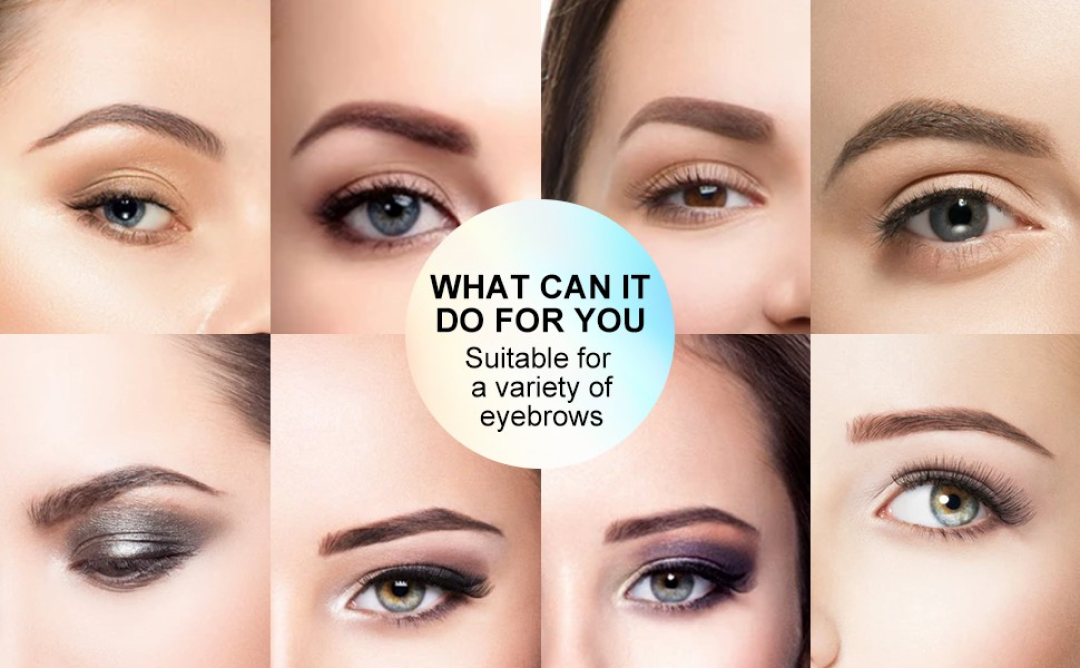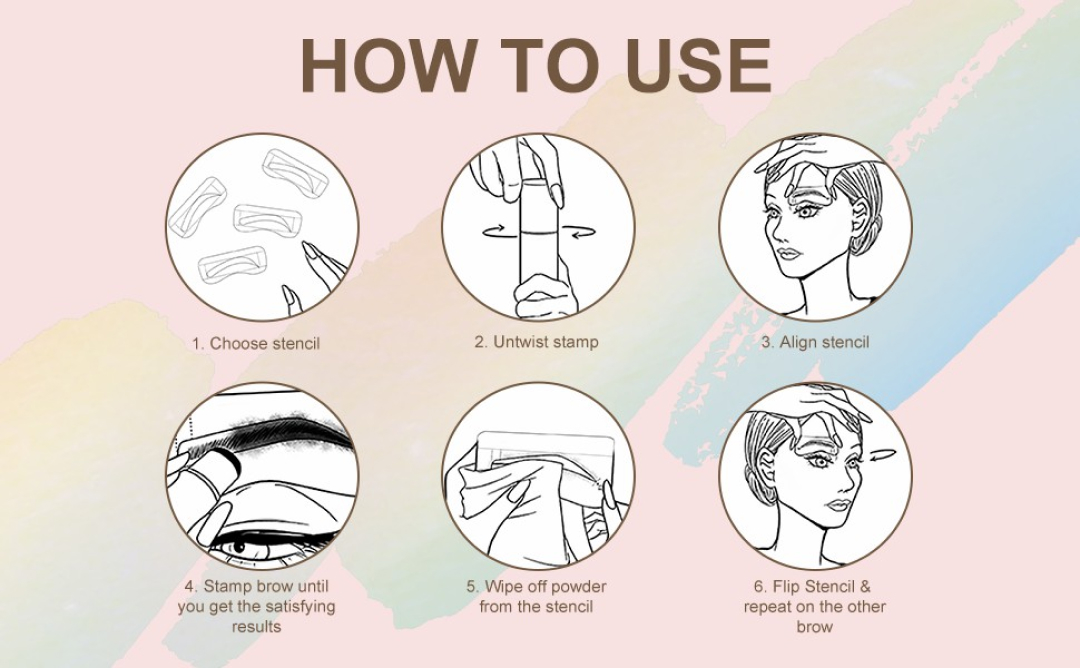 Elaimei Eyebrow Stamp Shaping Kit Powder Stencil Makeup Set One Step Shape Brow Eyebrow Stencil kit, It is made of an eyebrow stamp, 10pcs eyebrow stencil kit, 2 eyebrow brushes Reusable Eyebrow Stencil Kit, contains 10 different shape stencils, you can choose one of the eyebrow stencils according to your different makeup. And this eyebrow stencil can be reused, which is more environmentally friendly
Professional and Long Lasting Eyebrow Stamp, The eyebrow shape kit uses a professional eyebrow stamp and this vegan formula makes your eyebrows natural and long-lasting. Easy to Use, this eyebrow stamp shaping kit lets you have natural eyebrows with perfect shape in just 3 minutes, Save your precious time. Wide Application, This kit has wide applications, For example, drawing eyebrows, drawing eyeshadow, covering the face, trimming the hairline. It is a good choice to send it as a gift to relatives and friends
Do you spend ages perfecting your eyebrows every day? Elaimei Eyebrow Stamps offer an easier solution. The eyebrow stamp is a game-changer for anyone who has ever struggled with filling in their brows! No need to bother with the painstaking process of drawing in your eyebrows.
Waterproof Eyebrow Stencil
Reusable Eyebrow Stencil Kit
Professional and Long Lasting Eyebrow Stamp
Just stamp, perfect brow in minutes – do you always fight for the perfect-looking eyebrows? Elaimei eyebrow stamp means achieving flawless brows each time in just seconds! No mess, no fail, and no skills required. You will get an effortlessly flawless brow look.
Eyebrow Stencil Kit: Our eyebrow stamp stencil kit includes a unique eyebrow stamp, 2 brow brushes, and 10 different stencils, easily creating natural and attractive brows without any skills.
Simple & Easy to Use: Designed for beginners, no skills required, you will get an effortlessly flawless brow look.
Natural Eyebrow: The eyebrow powder is smooth and well blended with the skin. Give an excellent make-up for a natural effect.
Unique Design: The brow stamp has a rounded mushroom head design that softly conforms to skin and absorbs powder well for fast colour application. Waterproof and sweatproof, naturally does not fall off and keeps your brows on all day long.
Eyebrow Stamp Stencil Kit, Waterproof Brow Stamp Shaping Kit Eyebrow Definer, 10 Reusable Eyebrow Stencils for Women Makeup Tools
Feature:
1. Natural colour, Fine texture
2. Soft mushroom head design, quickly take a powder (take the powder in the cover)
3. Easy to use, just 90s to finish your eyebrow makeup
4. Easy to take outside, do eyebrow makeup anytime
How to use
Step 1. Choose a suitable eyebrow shape and align it to the position you want according to the grid lines.
Step 2. Use the brow stamp pad to gently tap the blank part of the template from the end of the eyebrow until the filling is completed.
Step 3. After wiping off the cream on the template, you can easily find the symmetry of the second eyebrow due to the softness of the template and grid lines. Repeat step 1 to complete the second eyebrow.
Step 4. Use the eyebrow brush to modify the natural eyebrows. If the color is not dark enough, reinstall the template and continue to apply.
Tips: Use the eyebrow cream cushion to dye the vacant part of the stencil by patting gently starting from the tail of the eyebrow, until the filling is complete. Please don't apply it by wiping because this way doesn't work well.
Features:
Eyebrow Stamp Stencil Set
This product naturally does not fall off, can be easily put on, very suitable for beginners.
Decorating the hairline
Creates an M-shaped hairline, which can fix uneven or high hairline problems.
A good helper for face-lifting
Soft mushroom head design, firm grasping powder, can cover your face and create a three-dimensional makeup.
【Convenience Eyebrow kit】Eyebrow stamp shaping kit includes a unique air cushion stamp, 10 different stencils, eyebrow brush, eyebrow trimmer and zipper pouch which made the customer's convenience in mind to make it easier than ever before to style and groom your eyebrows.
【Instantly Color】 our eyebrow pomade create with high pigment, waterproof, sweat-resistant, long-lasting, buildable eyebrow formula, available in 3 pop color shades to help fill in and detail eyebrows. you can choose the color number which suits your hair color and mix it with your own hair color.
【Perfect Stencils 】you will receive carefully customized 10 most popular shapes that will give your brows the perfect shape, you can choose according to your situation of the day!
【Cruelty-Free Beauty】Use the professional air cushion stamp with this vegan formula to apply the perfect amount of brow color and definition at the intensity you want. Never tested on animals.
【Best Gift 】This eyebrow makeup kit absolutely is a perfect gift. Perfect as a gift sends to Lover, Family and Friends when Valentine's Day, Birthday and other Festival!
Eyebrow Stamp Sets: One-step eyebrow stamp shaping kit includes one colour eyebrow powder, 10 different stencils, 2 eyebrow brushes.
No need to waste time measuring whether the shape and size of the eyebrows are the same.
It takes a few seconds to create natural and perfectly shaped eyebrows. Improve makeup efficiency and save time.
No need to waste time in measuring if your eyebrows are in the same shape and size as the stamp does the job for you. Soft mushroom head design, firm grasping powder, novices can quickly color. Can thrush makeup, eyeshadow, hairline, block defect of the face. Suitable for different occasions, perfect for party makeup/ casual makeup/ wedding makeup, etc.
Package: Eyebrow stamp*1, Eyebrow brush*2, Reusable Eyebrow Stencils *10