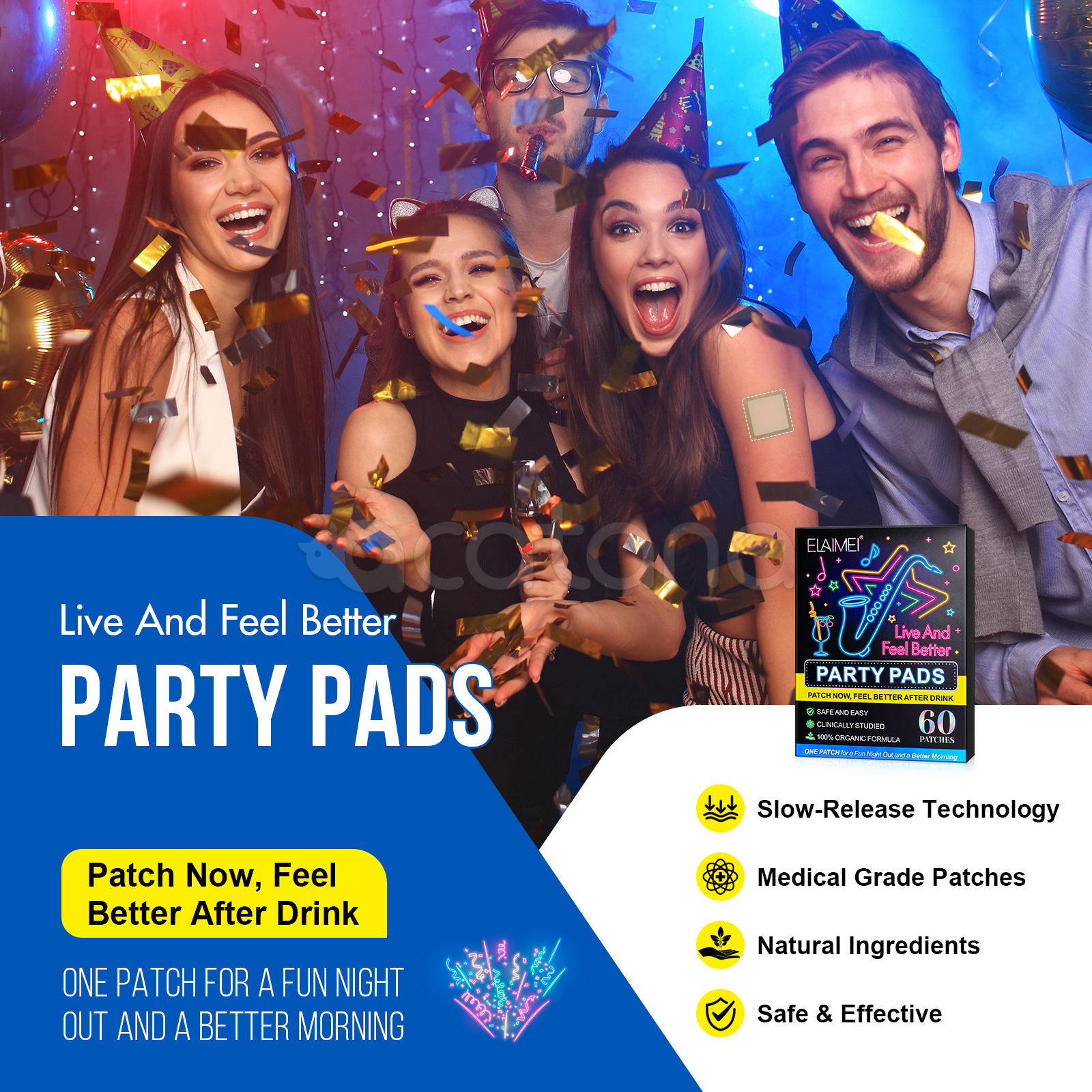 Elaimei Party Pads (60pcs). When you drink, your body works hard to metabolize all the alcohol you're consuming. To avoid those unwanted post-drinking symptoms, you need to recover your energy. We have a pre-drinking patch that can help. It's easy to use and may help you avoid spending a good portion of the day in bed.
PATCH NOW, FEEL BETTER AFTER DRINK
SAFE AND EASY
CLINICALLY STUDIED
100% ORGANIC FORMULA
About this item:
Safe & No Side Effects – These Elaimei Anti Hangover Patches have zero calories and contain no harmful ingredients. And because they bypass the digestive system, they won't upset your stomach.
Easy to Use – Using these patches is convenient. Just peel off the patch from the backing and slap it onto your skin at least 30 minutes before drinking. It also works while you're drinking.
Stays On for Hours – The strong and skin-friendly adhesive ensures that the patches stay on long after the party's over. They're also waterproof, so you can wear them for pool or beach parties.
Share It with your Friends – Each box contains 60 pack pads. With this, you should have enough stock for yourself for plenty of parties and with more to spare for your family and friends.
These patches are waterproof, making them an excellent choice if you're having a pool or beach party. They'll stay on your skin even if you take a soak or do some light swimming. No need to worry about replacing your patch when you get out of the water.
Features:
Once you use it, it starts to work. It will help you eliminate the aftereffects of drinking. There are no side effects. As such, it helps pave the way to a smooth recovery. Enjoy your party, your night, and don't worry about the next nice day!
These patches feature a strong adhesive. These Elaimei Anti Hangover Pads help keep them stuck on the skin for hours, and they won't peel and fall off easily. Thus, you can count on the patches to stay on. You can even wear them to sleep. The patches won't come loose even if they keep rubbing against your clothes or bedding.
Quick & Convenient to Use. Using these patches is super easy. Take a patch, and peel the sticker off the backing. Then stick the patch on an area of the skin with little to no hair. Press for 5 seconds! That's it! Now, you're ready to party! We suggest keeping the patch on for at least 8 hours, but not more than 12 hours.
Wake Up to Better Mornings – Say goodbye to headaches and grogginess! The patch with Natural Formula may bring balance back to your body after a night of partying.
How to use:
Step 01: Apply one party patch 20 minutes before consuming alcohol.
Step 02: Remove the patch from its packaging, and apply it to a dry and hairless area on your body. Press and hold the patch for 5 seconds.
Step 03: Keep the patch for at least 8 hours after you've stopped consuming alcohol, without exceeding 24 hours. In the meantime, stay hydrated.
Step 04: Remove the patch by wetting it with warm water and gently pulling it free by each corner. Do not yank or pull the skin!
Package included: 1 * Elaimei Party Pads (pack of 60pcs).