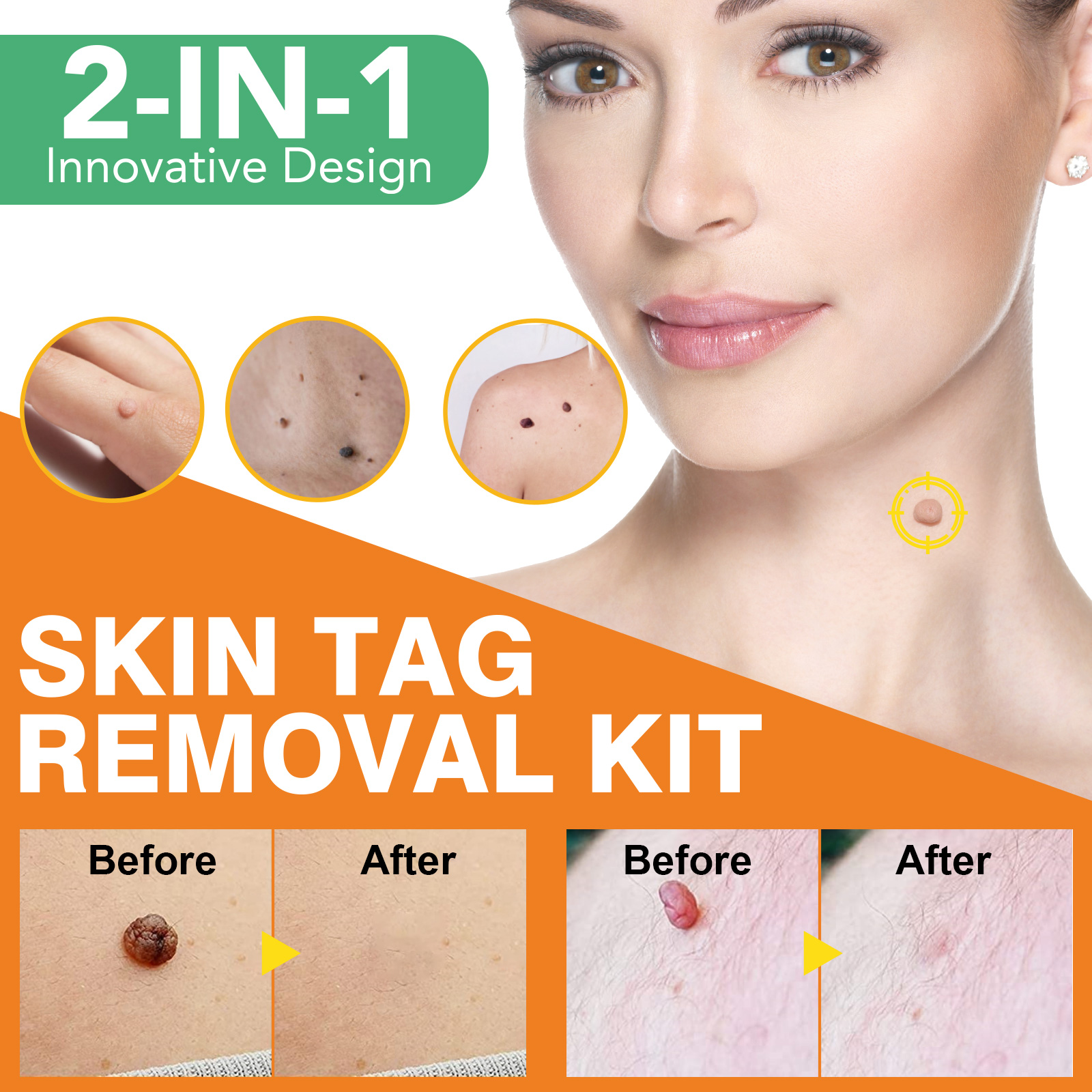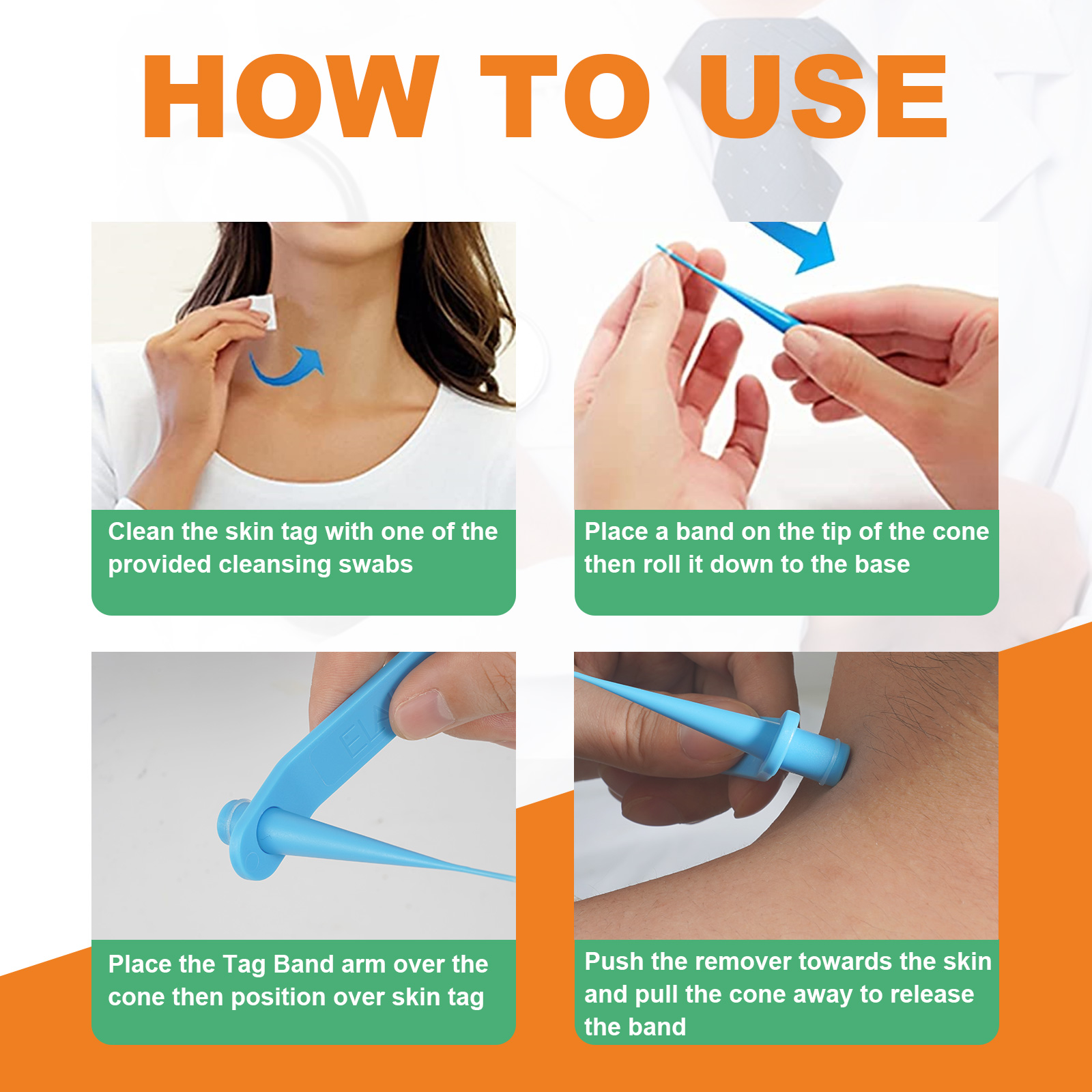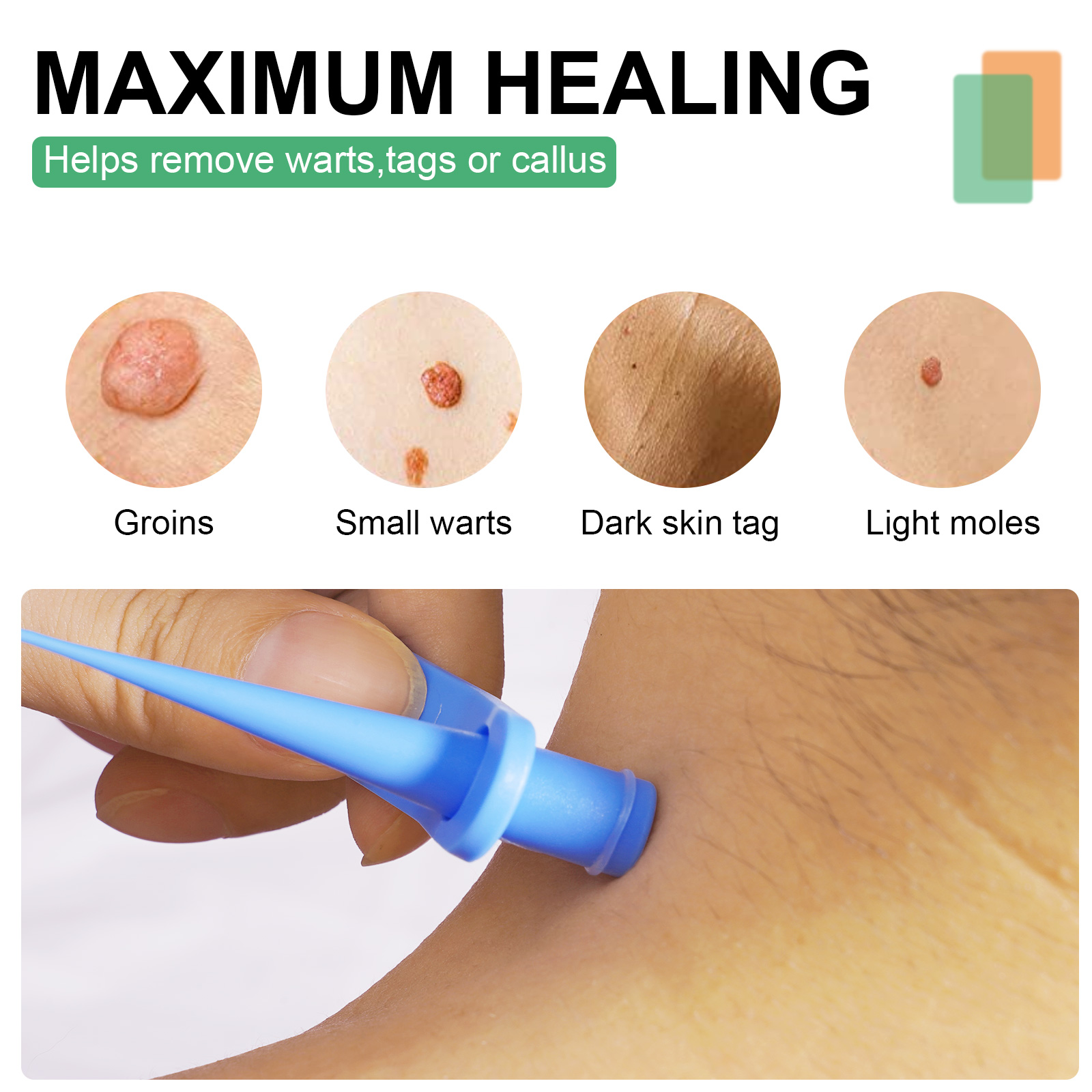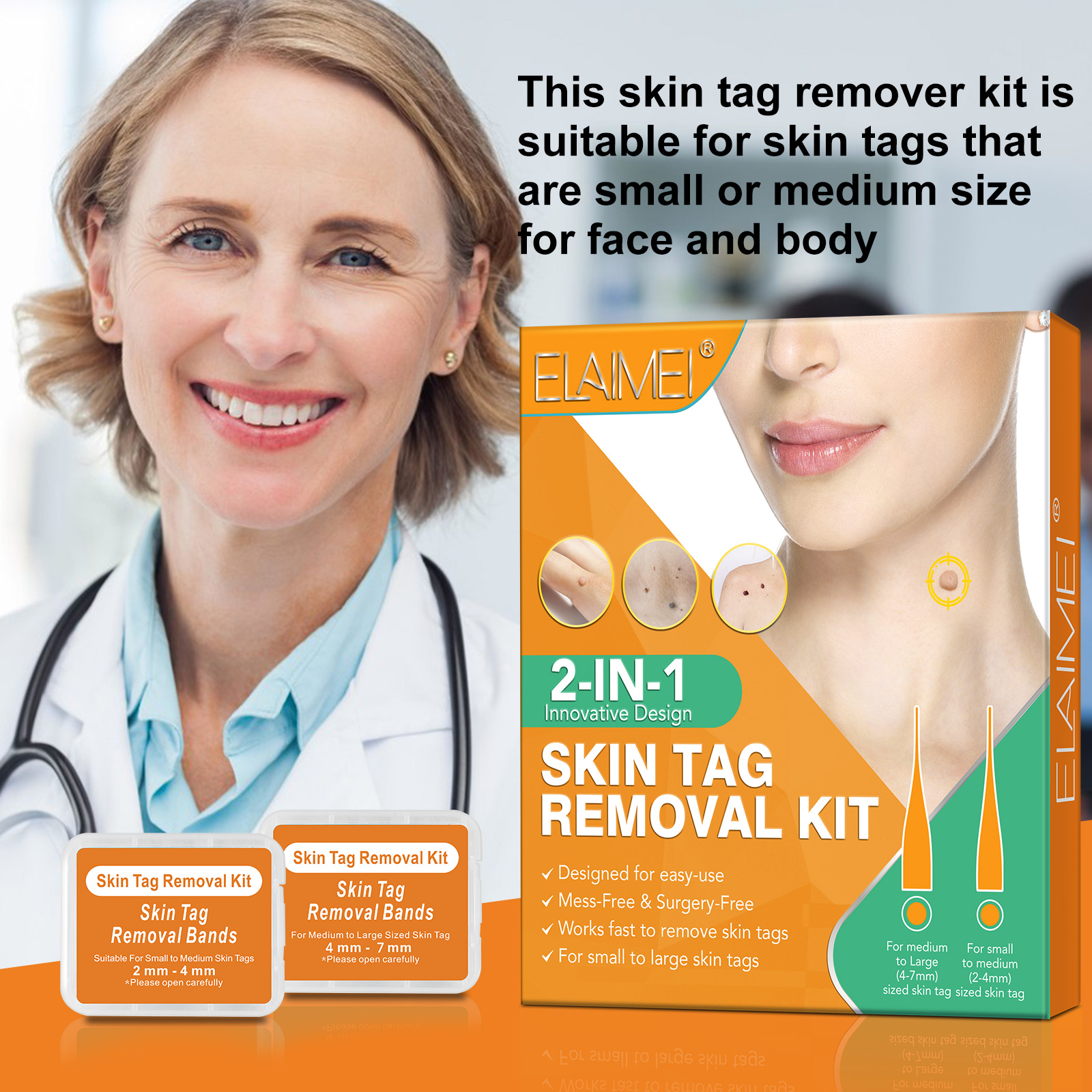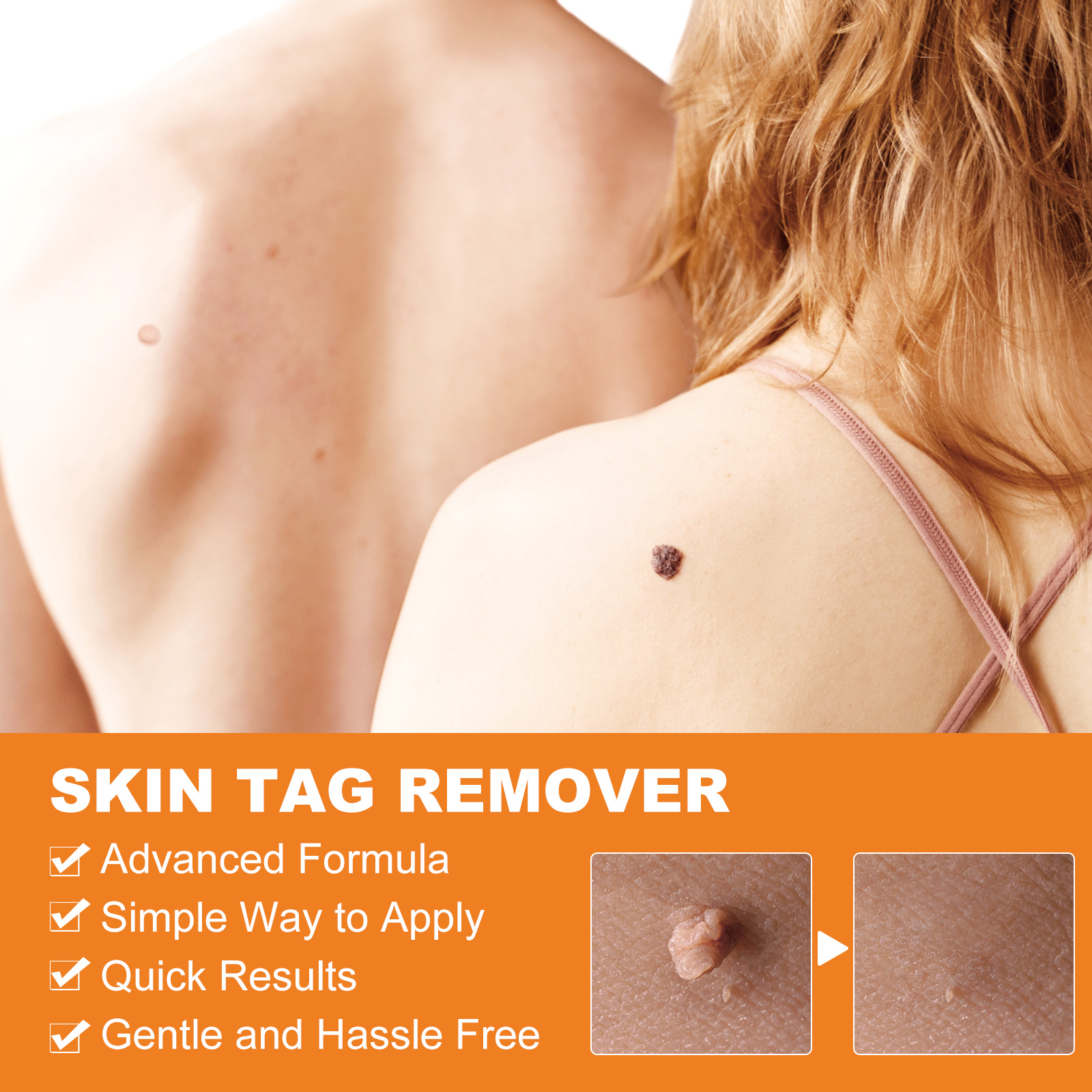 Elaimei Skin Tag Remover Kit Fast Effective Micro Safe Wart Removal Effective Bands
Safe & Painless Skin Tag Remover According to the US standard medical ligation methods of skin tag removal, safe and sound, By cutting the direct blood supply of skin tags, with the rubber bands moderate gentle tightness design, it's painless during the process.
Eliminate Skin Tags Fast ELAIMEI skin tag removal kit utilizes the ligation method with small rubber bands to reduce the skin tags blood supply, it is a fast and easy way to lose your skin tags, so you can avoid costly and painful invasive cosmetic procedures, which effectively removes skin tags and leaves your skin smooth and healthy.
Skin Tags Remover Kit The ALL-IN-ONE skin tag remover set includes 1 micro skin tag remover cone, 1 micro band remover, 24 micro bands, 12 cleansing wipes, and 36 skin tags repair patches.
Easy To Use For Small, Medium, Large(2mm – 8mm) Skin Tags. Just follow the simple instructions and remove skin tags without any pain or discomfort, with no freezing or burning.
Suitable For All Body Areas Our effective skin tag remover is ideal for getting rid of annoying skin tags (NOT moles or warts) on any part of your body, including your face, neck, chin, back, underarms, fingers, or legs (excluding sensitive eye area).
CAUTION They are not to be used by anyone with a rubber allergy. This kit is not intended for use on warts or moles. Do not attempt to treat an internal skin tag or a skin tag around sensitive areas such as the eyes.
HEALTHY AND NATURAL SKIN TAG REMOVER Utilizes the ligation method with small rubber bands to reduce the skin tags blood supply, making it disappear naturally through this physical principle.
ONE-HANDED DESIGN Use from the Comfort of Home, the one-handed design allows you to reach those skin tags in hard-to-reach areas
SUITABLE FOR SMALL/MEDIUM/LARGE SKIN TAGS Specifically designed to remove skin tags that measure 2-8mm at their widest point.
SAFE AND SIMPLE TO USE Application in Minutes applies in four easy steps with no freezing or burning. Suitable for use on the face and body (excluding sensitive eye areas)
QUICK RESULTS See flawless, beautiful skin in 2 weeks! Eliminate skin tags effectively- the skin tag remover dries up skin tags and they just fall away like magic!
How to use it?
1. Clean the skin tag and the surrounding area with one of the provided cleansing swabs.
2. Attach the loader onto the end of the device then place a band onto the tip of the loader and
roll it down and onto the device.
3. Remove the loader from the device
4. Position the hollow end of the device over the skin tag.
5. Once it s level with the skin s surface push the button to release the band.
6. The band will now be held securely in place where it will remain until the skin tag has dropped off.
Elaimei Skin Tag Removal Kit Removes Skin Tag Sized 2mm to 8mm
Features:
Natural & Chemical-Free: no harsh chemicals, no secret ingredients.
Safe & Painless: simply cut off the blood supply and wait for your skin tag to fall off naturally after a few days.
User-Friendly: easy-to-follow instructions will make the process easier than ever.
All-Inclusive: our complete set includes everything you need to get rid of skin tags and take care of your skin.
Effective: ideal for people who develop skin tags on a regular basis and need effective treatment.
Suit for More Sizes: Elaimei Skin Tag Remover can be used on all skin tags that are small to medium size. (2mm – 8mm Skin Tags)
For All Body Areas: It is designed for skin labels on the face and body, but we do not recommend using it around the sensitive eyes area.
Caution:
1. Do use the fingernail to touch the band, it will break it.
2. Not suitable for people with rubber-related allergies. Consult your doctor for more information.
3. No More Skin Tags In A Few Days?
Depending on the size and location of your skin tag, it might take 3-14 or even more days to effectively cut off the blood supply and eliminate the tag.
Package Included:
2 x Micro Skin Tag Removal Cone
1 x Micro Band Remover
40 x Micro Bands
12 x Cleansing Wipes
36 x Skin Tag Repair Patches