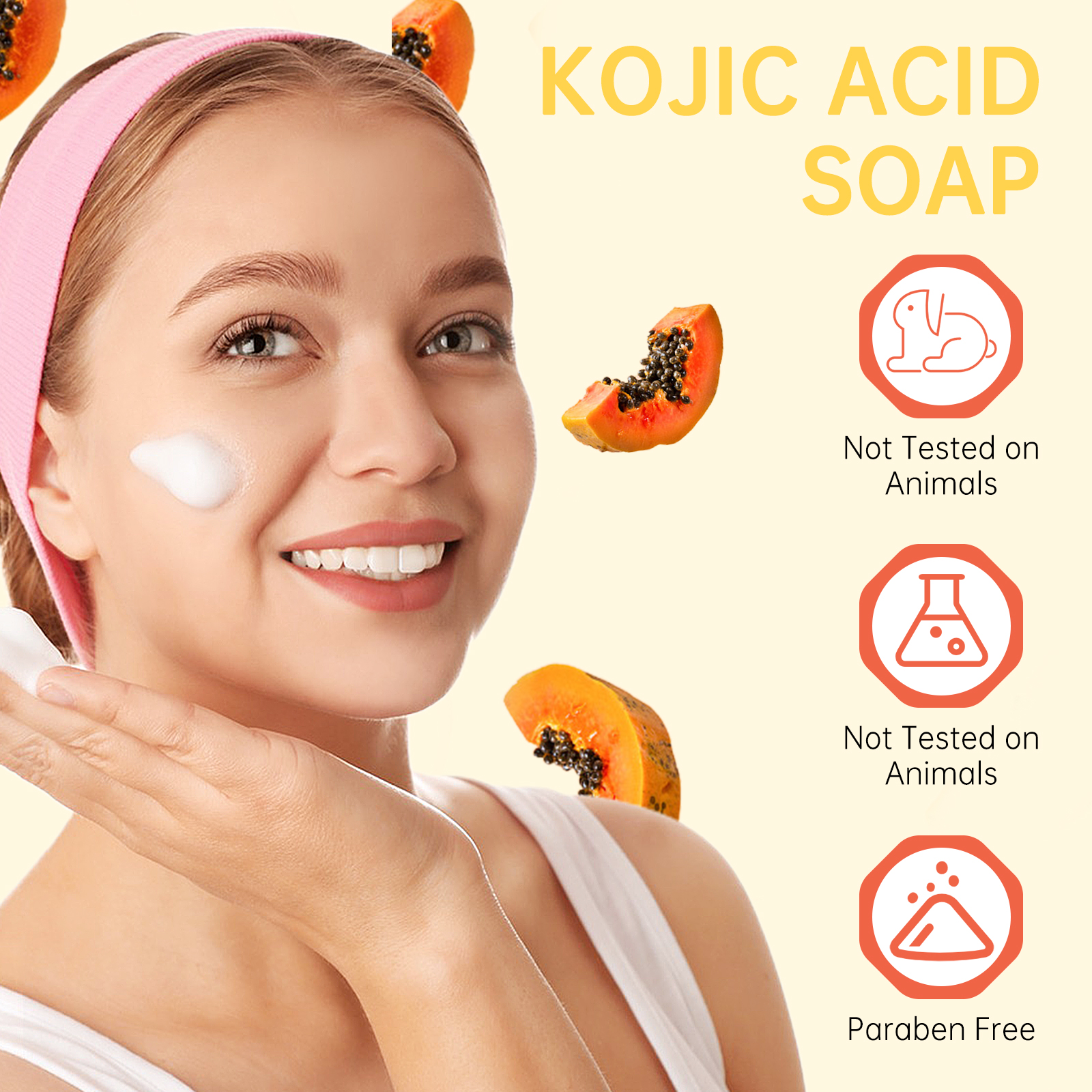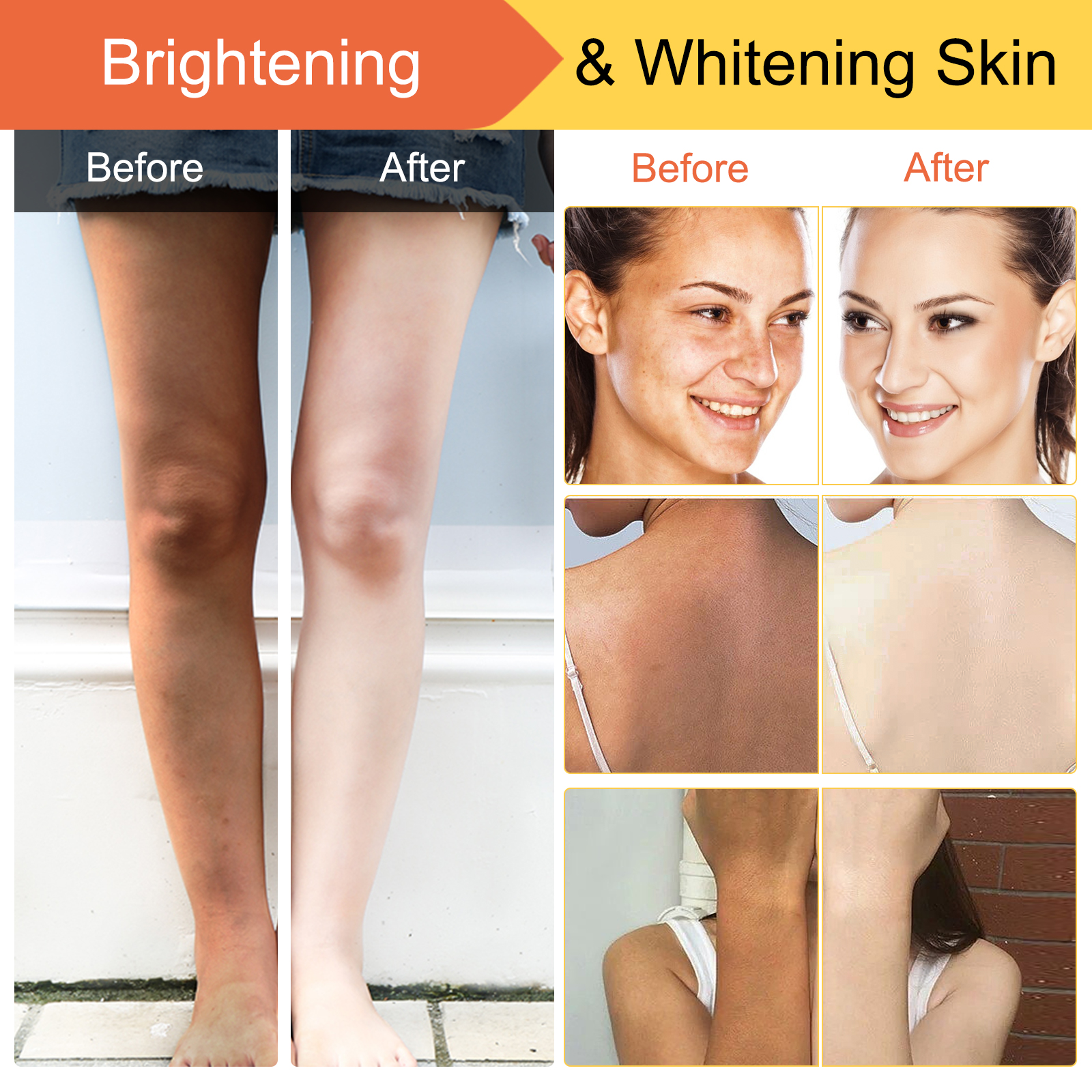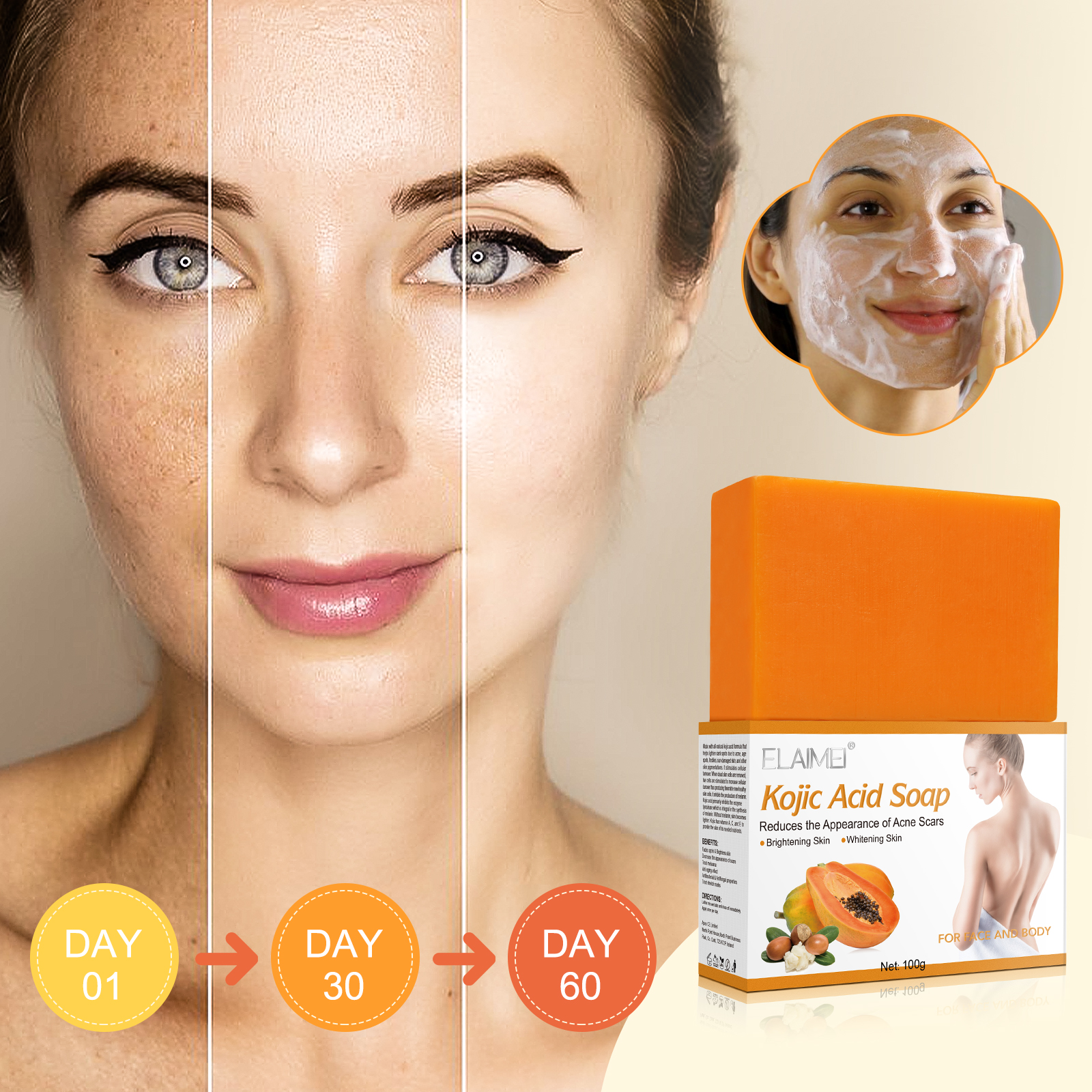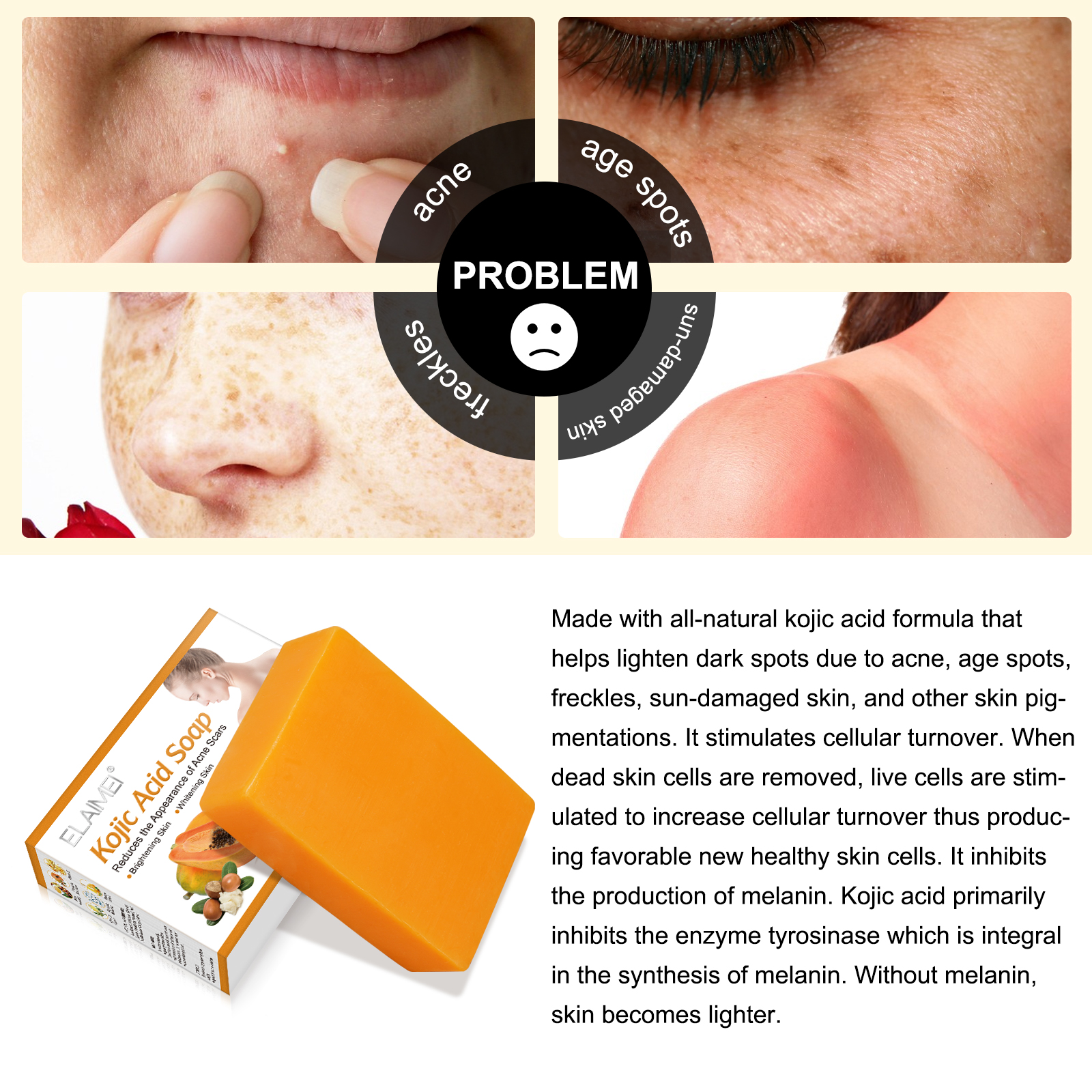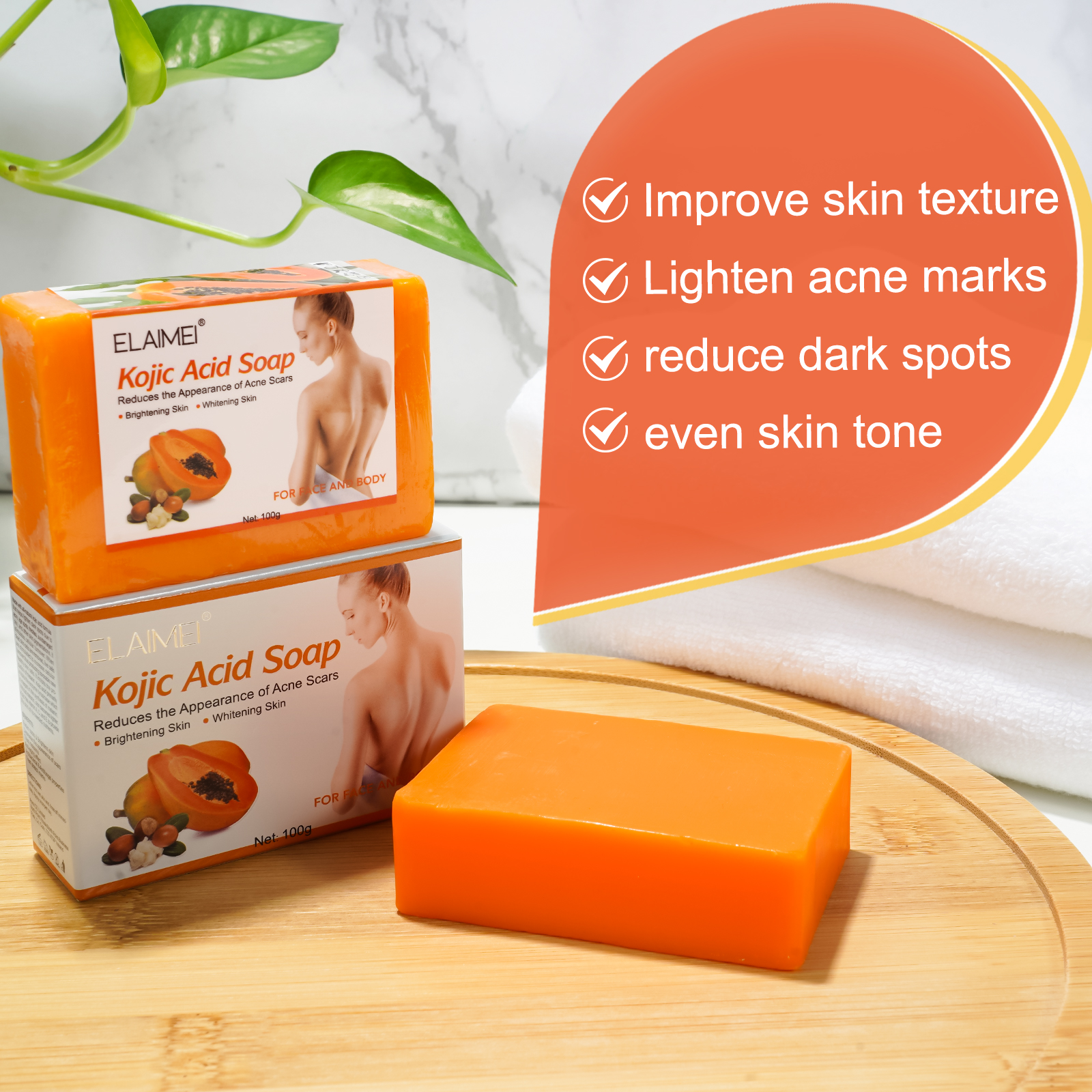 Elaimei Whitening Kojic Acid Soap Facial Bleaching Dark Spot Acne Scars Skin Brighter Lightening Detox Pigmentation Removal Reduce
Aromatic cleansing and whitening bar with Kojic Acid and Papaya. Papaya enzyme gently removes dead skin cells and improve the texture of complexion.

Papaya for Skin: Skin-benefiting qualities. Our soap is formulated with skin-cleansing turmeric which helps in restoring the moisture balance and reviving your skin from sunburns, fine lines, and wrinkles; Turmeric is also known to reduce scarring; This combination of uses may help your face clear up from acne breakouts
Dark Spot Corrector: Original Complex for Dark Spots, our soap promotes a balanced, more even tone & a healthy glow; You can use this for your face, hands, neck, bikini area, inner thighs & underarms
Improve your Skin Elasticity: Our soap also promotes production, Palm Kernel Oil, and Vitamin E that stimulates collagen repair to improve skin's elasticity and keep your skin moisturized, hydrated, and glowing
SLS and Paraben-Free: Perfect for daily use! This kojic acid soap can be used to clean most of the skin; First, wet your skin with warm water, apply the turmeric soap evenly on the skin; Then, massage for 20-30 seconds, and finally rinse with water
GET BACK THAT FLAWLESS, VIBRANT GLOW! Are you struggling with your skin? Not anymore! Use Elaimei Kojic acid soap daily to improve skin radiance!
KOJIC ACID CONCENTRATED FORMULA: Don't be fooled by poor quality Kojic acid soaps available out there! Save money and time by choosing only this advanced, concentrated formula for optimal results, in less time.
MOISTURIZE & NOURISH: Thanks to its luscious, rich texture with coconut oil and hyaluronic acid, this premium quality Kojic acid soap will penetrate deeply into the deepest layers of your skin to nourish and hydrate the cells giving you back that fresh, youthful glow!
SAFE FOR FACE & BODY USE: Wash your face and body with this soap and get ready to be amazed by its stunning results! If you've already tried everything with no success, don't fret! Try Kojic acid soap today.
NOT TESTED ON ANIMALS, NO SLS, PARABEN FREE: The Elaimei Kojic Acid soap is ideal for daily use. Being natural, it makes an excellent addition to your everyday beauty care routine. So why wait? Grab yours now!
Elaimei Kojic Acid Lightener Soap
Helps to reduce acne scars
Eliminate Age spots
Diminishes sun damaged
Correct Discoloration
Whitening/ Brightening
Lightens and Brighten Skin Tone
Purely Natural skin Lightening Soap for Dark Spots, promotes balanced, more even tone and a healthy glow.
Skin For Face and Body
Lighten, brighten and whiten skin on the face, neck, inner thighs and underarms. Safe and gentle for bikini area, armpits and face.