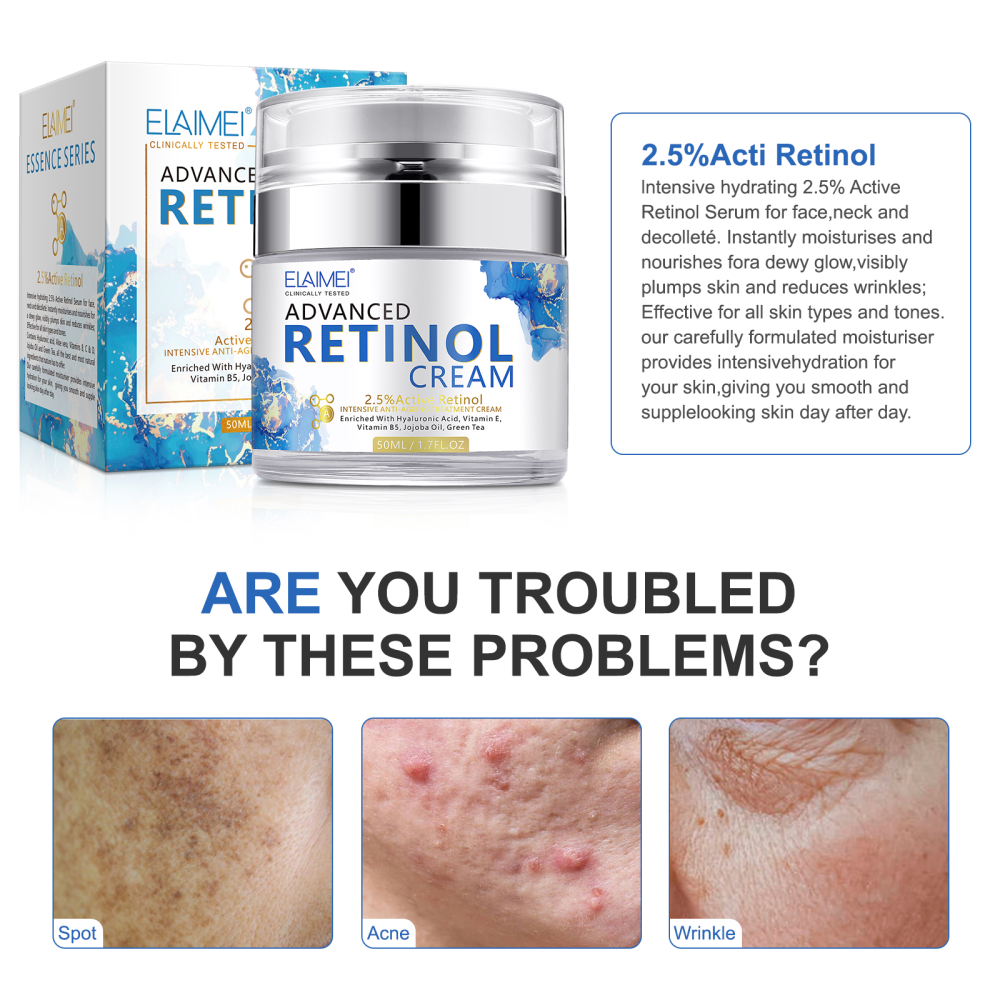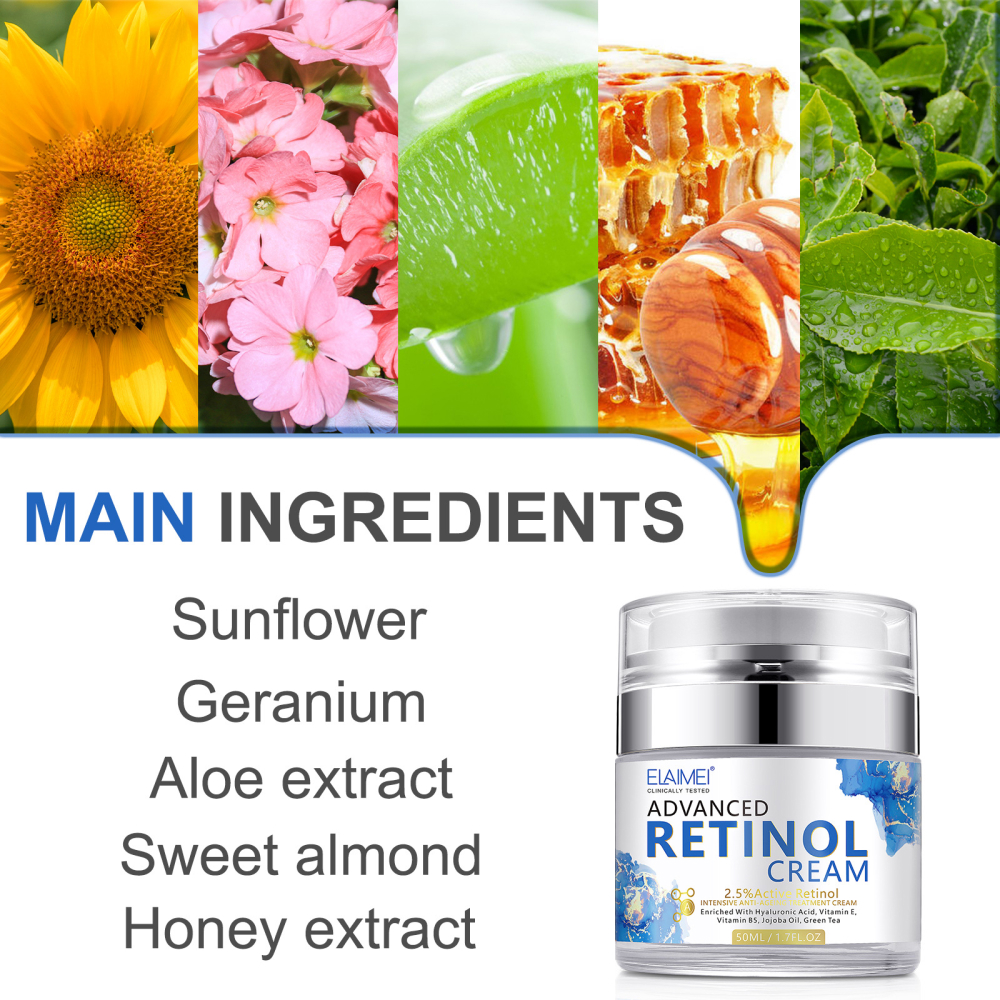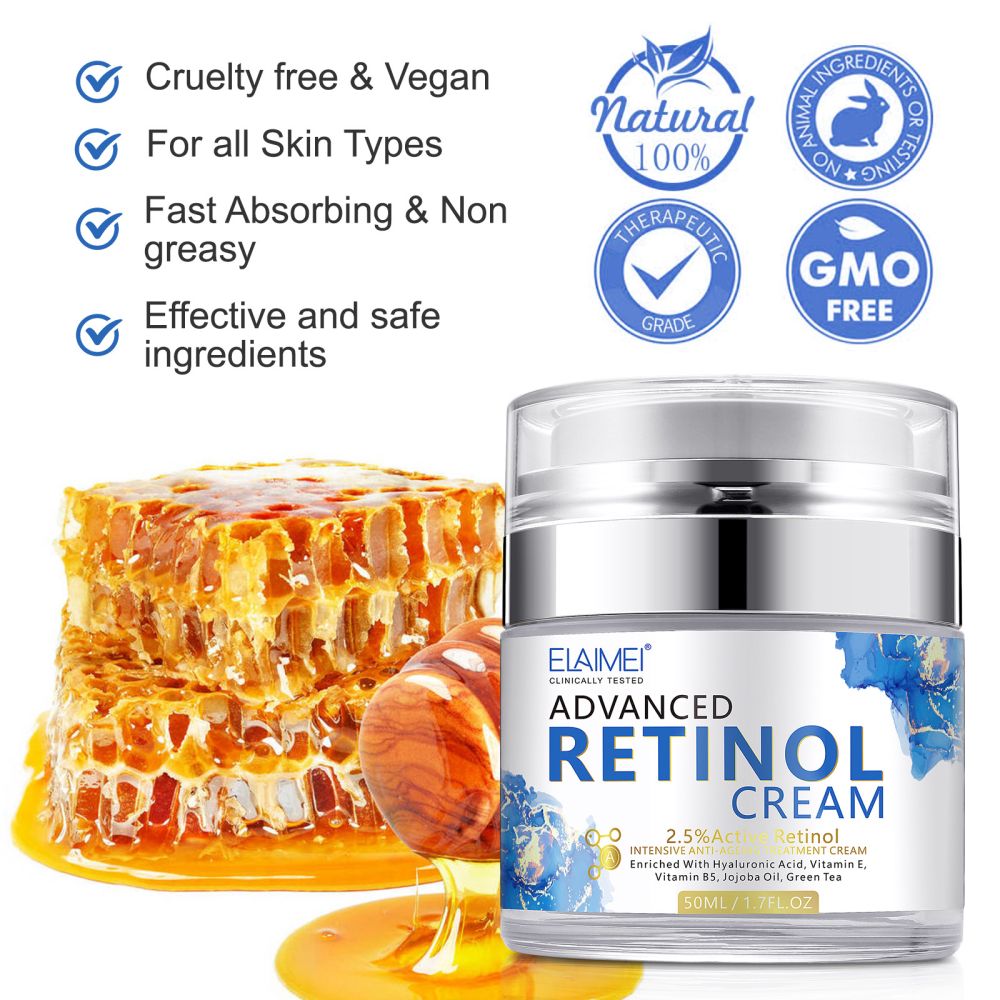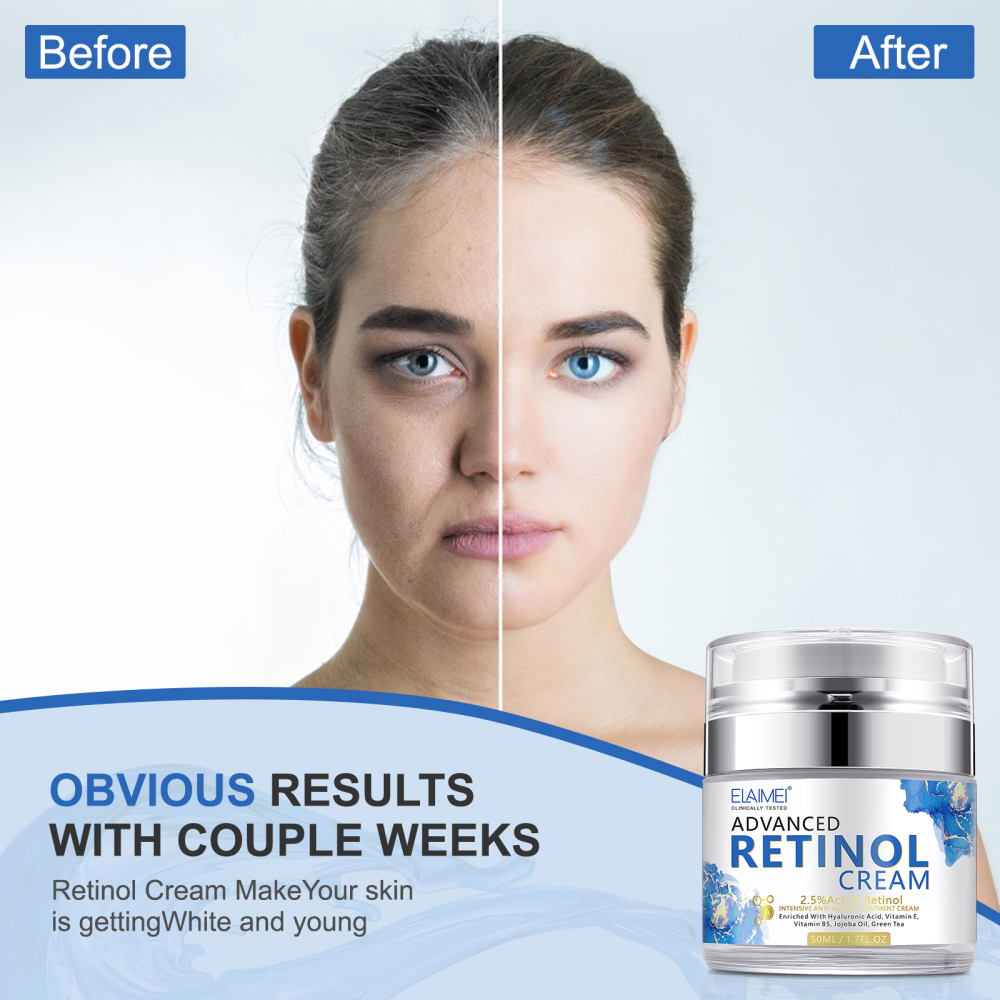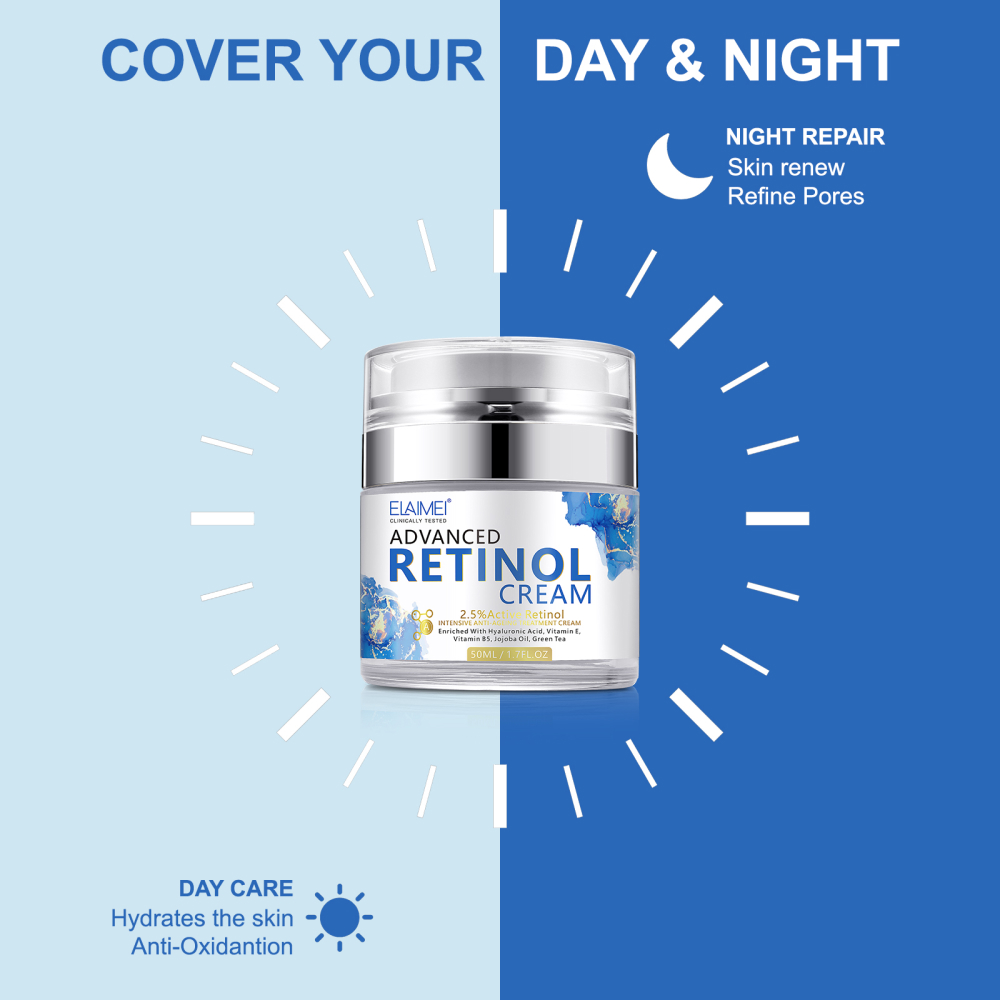 Elaimei Advanced Retinol Face Cream 2,5% super moisturizer that helps to improve uneven skin tone and texture by reducing fine lines, acne spots, dark circles, wrinkles and sun damage. Specially designed to prevent breakouts, clog pores and avoid irritation. Ideal for all skin types.
About this item:
Moisturize & Hydrate Your Skin: Retinol cream's high strength for the face can keep the face plump and soft, boost hydration levels, speed cell turnover, restore lost elasticity and ensure long-lasting moisturizing all day long. Ideal for your face, eyes and neck.
Reduce Wrinkles & Anti-Aging: This retinol moisturizer cream will work miracles on your skin. Experience fine lines and wrinkle reduction. Its powerful 2.5 % Active Retinol and Hyaluronic Acid combination ensures a younger-looking skin.
Minimize Dark Spots & Blemishes: This retinol face cream effectively solves the problems of acne, pimples, dark spots, spots, uneven skin tone, cracked and clogged pores. It not only eliminates acne marks but also inhibits acne. Evenly eliminate skin discoloration, and eliminate nasty outbreaks! Enjoy a flawless and radiant face from now on.
Natural & Organic Formula: This lightweight daily cream is rich in natural plant and organic ingredients, including green tea, organic jojoba oil, and vitamins A and E, vitamin B5, which can be quickly absorbed by the skin and are rich in antioxidants that are beneficial to the skin. It can resist the damage to free radicals and bring fresh skin.
For All Skin Type: Retinol is the gentler cousin of Retinoid, and our formula has calming agents to help soothe and hydrate your skin while the retinol works actively to renew your skin. Best day and night creams moisturize for all skin types.
Active retinol moisturizer helps stimulate collagen and elastin synthesis, supports the healing process of the skin, increases skin thickness, refines the appearance of wrinkles, evens skin tone and texture, restores elasticity and firmness to the skin.
Features:
Moisturize and Hydrate Skin: Cream hydrates and moisturizes skin and helps to fade fine lines, dark spots, aging spots and wrinkles.
Brighten and Even Skin Tone: Help improve the dark spots and balance skin.
Anti Aging and Reduce Wrinkle Cream: Help bring back the glow and elasticity to your skin.
Improve Skin Tone and Texture: Easily absorbed into your skin. It can be used during the day to hydrate the skin and prevent oxidation; then renew your skin and refine pores at night.
Perfect for all skin types: It can be used on the face, neck and other areas. It's friendly for dry, oily, combination, sensitive, and mature skin.
This retinol cream will restore your skin's youthful radiance. After a month of use, you will see the skin as smooth and delicate. For 2 months, the pores are invisible, the fine lines are light. 3 months, the spots are faded, the skin is shining.
How to Use:
Wash your face with water.
Gently press the cap to make the cream come out.
Massage gently until fully absorbed.
Finally, you can apply a mask or other skin treatment.
Package: 1*Elaimei Advanced Retinol Face Cream 2,5%
Volume: 50ml